Alan Thompson issues Celtic with legal notice after sacking
Last updated on .From the section Football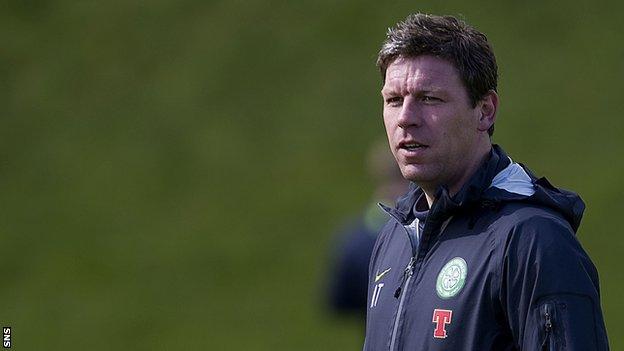 Former Celtic coach Alan Thompson has begun legal proceedings against the club after he was sacked on Sunday.
Celtic insist the first-team coach was sacked during a telephone conversation because he "refused" a meeting with manager Neil Lennon.
Thompson's lawyer says legal action has been instructed, but is at a preliminary stage.
Earlier, she had revealed her client was informed of his sacking during a phonecall with Lennon on Sunday.
A spokesman for the Scottish Premier League champions claimed a planned meeting of the two men had been set up in Newcastle on Sunday, which Thompson refused to attend and was subsequently sacked over the phone.
Thompson's lawyer said in a statement that her client is upset about the development and wishes to resolve the matter quickly due to his long-term association with the club.
The statement reads: "Alan Thompson has been dismissed by Celtic football club after enjoying years of first-class football both as a player and first-team coach.
"This included playing at the very highest level, both domestically and in Europe, then coaching the first team to become league champions.
"He is profoundly disappointed, given his strong feelings for the club, but remains deeply proud of his long and successful association with Celtic.
"Legal action has been instructed and is at a preliminary stage, however, Alan wishes this all be to be resolved amicably with Celtic, given his acknowledged feelings for the club."
On Monday, Celtic released a statement outlining the club's position, but did not provide any further details on what had happened between Thompson and Lennon.
"Alan refused to meet with Neil, hence the reason for the discussion being conducted by telephone," said the club.
"The matter is now in the hands of lawyers and, therefore, we are unable to go into any further details."
Thompson was appointed by Lennon in June 2010 alongside assistant manager Johan Mjallby following the sacking of Tony Mowbray earlier that year.
The Englishman previously won four Scottish Premier League titles and five domestic cups as a player at Celtic during a six-and-a-half-year spell in Glasgow.
He was also capped once for England and featured in Celtic's run to the Uefa Cup final against Porto in 2003.
He had a coaching role with Newcastle, with whom he started his playing career, before he returned to Glasgow to be reunited with former team-mates Lennon and Mjallby at Celtic.