Renard hits out at Zambia govt over travel arrangements
By Kennedy Gondwe
BBC Sport, Lusaka
Last updated on .From the section Football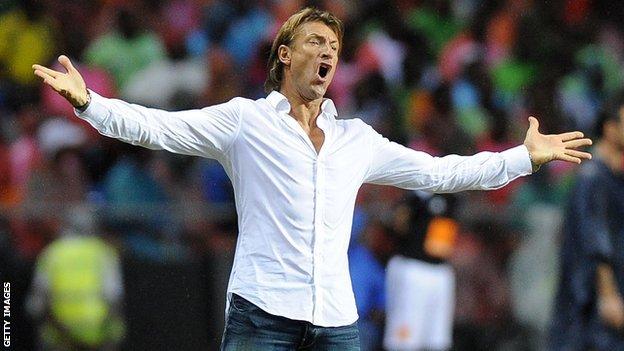 Zambia coach Herve Renard is angry with the travel arrangements made by the government for his team's trip to Sudan for a 2014 World Cup qualifier.
Renard had wanted the team to fly on a chartered plane from South Africa, where Chipolopolo had a training camp.
"In football you have to be professional. We're not professionals; we're amateurs," he said on Monday.
"I hate to work like this. I won't continue to work like this if people do not want to work with a professional like me."
But he refused to blame the late arrival for their loss.
"It is not an excuse because I complained a lot about this before the game, so the responsibility of the loss is my responsibility because I am not a strong man in this country to get what I want."
He said the team's travel arrangements did not befit Zambia as reigning African champions.
Sports minister Chishimba Kambwili says Renard should have followed proper communication channels instead of attacking the government in the press.
"I am not too happy as minister and I will not tolerate it," Kambwili said.
"It's very unprofessional for Herve Renard to go to the press before they table the aftermath report. He must learn to keep his cool."
The Chipolopolo are currently camped in Ndola, northern Zambia, where they will host Ghana on Saturday in their second Group D World Cup qualifier.
Zambia beat Ghana 1-0 in the semi-finals of the Africa Cup of Nations in Equatorial Guinea and Gabon earlier this year.
They also beat Sudan 3-0 en route to the trophy.