Liverpool director calls Wigan owner Dave Whelan 'a comedian'
Last updated on .From the section Football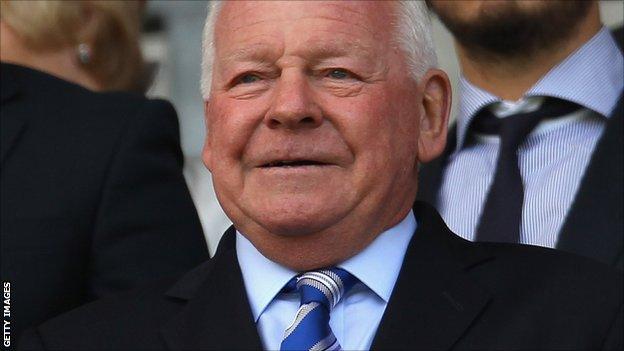 Liverpool managing director Ian Ayre has described Dave Whelan as a "comedian" for his comments during the Reds' managerial search.
But Ayre insists Brendan Rodgers was the only person offered the job.
He told the Liverpool Echo: "I always thought John Bishop was the biggest comedian in the north west, but Dave Whelan seems to have taken that mantle over in the last couple of weeks."
Liverpool appointed Swansea boss Brendan Rodgers on a three-year contract on Friday, two weeks after the sacking of Kenny Dalglish.
Latics boss Martinez had been considered a leading candidate to replace Dalglish and the Spaniard was photographed in Miami with Liverpool owner John W Henry.
Whelan subsequently claimed the 38-year-old had been offered the manager's job at Anfield, but Ayre dismissed his remarks.
"It is important to understand that we ran a proper search to find a new manager, and that part of that involved us speaking to a number of candidates," Ayre said.
"We make no secret of the fact we spoke with Roberto Martinez, but that is all we did. He is a great guy, and I can't speak highly enough of his professionalism and conduct.
"But for his chairman to make suggestions like he has, and suggestions that just aren't true, is disappointing to say the least.
"We can say with absolute certainty that the only person who was made any offer is Brendan Rodgers."
Ayre, who was appointed managing director in March 2011, said he was upset by Whelan's behaviour.
"From our point of view, we did all the right things. We approached the clubs we needed to approach and conducted ourselves properly at all times," he said.
"It is disappointing, then, that Dave Whelan felt the need to run the kind of sideshow he conducted via Sky Sports News and various other media outlets."
After Rodgers's appointment at Anfield, Whelan announced Martinez would stay with the Latics, amid interest from Aston Villa.
Following Ayre's comments, Whelan told ESPN: "I cannot help it if some people misinterpreted what I said, which was that Liverpool wanted our manager - which they did as they asked permission to speak with him, and talked to him on a number of occasions.
"They have appointed a super lad for the job, a very good manager, and I am very happy for them.
"We've kept Roberto Martinez, so I wish them luck for next season."