Botswana's problems continue ahead of South Africa clash
By Mtokozisi Dube
BBC Sport, Gaborone
Last updated on .From the section Football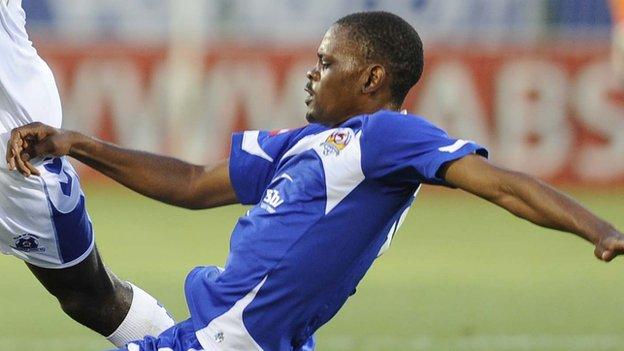 Botswana have had yet another setback as they prepare for Saturday's 2014 World Cup qualifier at home to neighbours South Africa.
Key midfielder Mogogi Gabonamong has once again declared himself unavailable for the Zebras, citing family problems.
He missed Botswana's 2-0 loss in the Central African Republic in their first 2014 qualifier for the same reason.
"We've agreed that I will not be available for that game because I have to attend to family problems," he said.
However, Zebras' coach Stanley Tshosane said he was not aware of the player's unavailability.
"I have been trying to contact him to find out if he is available but he has not taken my calls," the coach told BBC Sport.
"I am not aware that he has written to the association asking to be excused from this game, I only knew about the CAR game."
The Botswana Football Association's chief executive officer, Duncan Kgame, also said he was yet to receive Gabonamong's letter.
"He only excused himself from the Central African Republic game; we have not received any communication stating his unavailability for the South Africa game," Kgame said.
The SuperSport midfielder has previously shunned national call-ups over welfare concerns.
He refused to comment on whether the present snub had anything to do with the continuing money disputes that have affected the team since it qualified for this year's Africa Cup of Nations .
"I don't want to talk about other issues," he said.
"I will be there for the future games. Definitely."
Tshosane had hoped Gabonamong would be available after his youthful charges struggled in Bangui.
Gabonamong is now Botswana's most experienced player after the retirement of Diphetogo 'Dipsy' Selolwane and Modiri Marumo.
After the loss to CAR and South Africa's home draw against Ethiopia, this Saturday's encounter in Gabarone has become vital for both sides in their quest to top the group and proceed to the final stage of qualification for the 2014 World Cup.
South Africa have problems of their own as they parted company with coach Pitso Mosimane on Tuesday following the disappointing 1-1 draw with Ethiopia.
Mosimane's assistant Steve Komphela will be in charge for the game against Botswana.