Cristiano Ronaldo wants to finish career at Real Madrid
Last updated on .From the section Football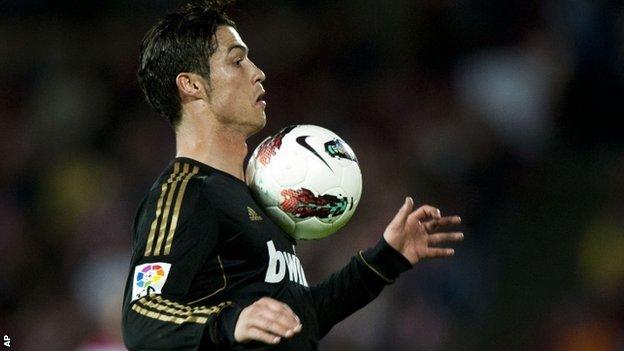 Cristiano Ronaldo says he wants to finish his career at Real Madrid after winning his first Spanish title.
The £80m world record signing from Manchester United, 27, scored 46 league goals last season as Real ended Barcelona's domestic dominance with a first La Liga crown in four years.
"If it was up to me then I would stay at Real Madrid for the rest of my career - I am sincere," Ronaldo said.
"I would sign for 10 years today if I could, but it also depends on others."
Ronaldo, who scored 55 goals in 60 games in all competitions for Real last season, admitted he has been eager to repay the Spanish club for the record fee they paid for him three years ago.
He added: "All that I have achieved I have done so with my sweat and talent, but overall with a lot of work. Nothing has fallen out of the sky.
"At times I think about how I am still the most expensive singing in the history of football and I always try to justify on the pitch the huge gamble the club took on me."
Ronaldo, part of the Portugal squad preparing for Euro 2012, also expressed his delight that compatriot Jose Mourinho has renewed his contract at the Bernabeu until 2016.
In an interview with Spanish newspaper Marca, he added: "I am happy Mourinho is staying.
"A club like Real Madrid has to have a top coach like [Jose] Mourinho. The manager has to stay here. It seems clear to me that Real Madrid without Mourinho would win less titles than with him on the bench."