Brendan Rodgers wants his own place in Liverpool history
Last updated on .From the section Football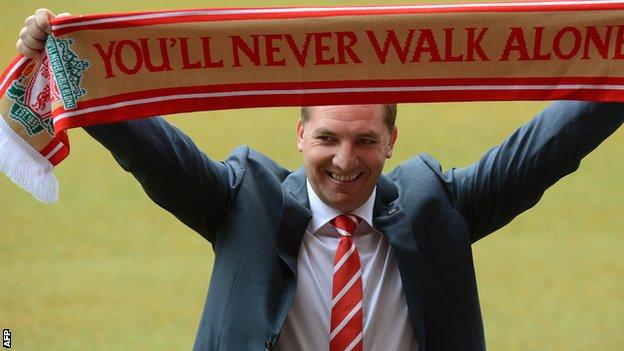 New Liverpool manager Brendan Rodgers says he cannot hope to emulate the standing Kenny Dalglish had at Liverpool, but wants to earn his own place in the club's history.
Dalglish won six trophies in two spells as manager of the Anfield club.
"Hopefully, in time, people will look back at what I have achieved and I can walk beside these people [club legends]," Rodgers said.
He added "his door is always open" for Dalglish at Anfield.
"This is his home," Rodgers told the official club website. "As chairman Tom Werner said, he is the heart and soul of this club.
"There is no way I can try and overtake someone like Kenny. His love for this club is unrivalled. He is the best player in the history of this club.
"I am not here to win any race or competition. This guy is a legend in the game and here at Liverpool.
"But what I know is history judges you as a manager. All I can do is be myself."
Rodgers has won favour with many at Anfield already, with his promise of implementing the same style of football that made Swansea one of the league's most attractive teams, and the Northern Irishman is confident he can become his own man on Merseyside.
"This is a prestigious club and Kenny is a guy who has a wonderful history here and will continue to have a great future in terms of Liverpool," Rodgers said. "I can't worry about that.
"The only way you can overcome that is by winning. On a lesser scale, when I went in to Swansea there was a similar thing. The chairman put me in and I was given the challenge of making the club better."
Rodgers warned expectant fans it may take a while to see his philosophy come to fruition, but says the club can challenge for major honours when it does.
"It is going to take time for how I want to play and the philosophy I want to introduce [to happen]," he said.
"But we will make our first steps and, hopefully over the next couple of years, we will be ready to challenge and ready to compete."