Sven-Goran Eriksson criticises Roy Hodgson 'smear campaign'
Last updated on .From the section Euro 2012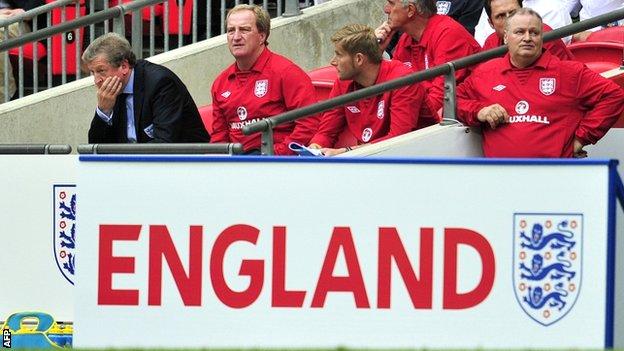 Sven-Goran Eriksson says England boss Roy Hodgson is the victim of a smear campaign for leaving centre-half Rio Ferdinand out of Euro 2012.
Ferdinand was omitted from the original squad and overlooked again when Gary Cahill was injured. Liverpool's Martin Kelly was called up instead.
"Choosing Kelly seems to have caught him (Hodgson) in the crossfire," said former England manager Eriksson.
"Having selected six Liverpool players, Roy is the target of a smear campaign."
Eriksson said he thought Hodgson would be able to handle the media pressure currently being directed at him.
"I know Roy will face it without losing his composure," said the Swede, who was in charge of the England team from 2001-2006.
Hodgson, who has presided over two friendly victories since taking over as England coach last month, insisted that Ferdinand's omission was for footballing reasons.
However, many believe it was to avoid potential conflict with John Terry, who is to stand trial in July over a charge he racially abused Ferdinand's brother Anton. The Chelsea captain denies the claim.
"First of all, they're all good footballers. But, secondly, Roy has rock-solid knowledge when it comes to the players' current form," said Eriksson. "Personally, I just find the whole thing to be quite silly."
Many expressed surprise that Kelly, who has played in only one non-competitive match for England, was preferred to Ferdinand, who has won 81 caps and proved his fitness this season by starting 36 matches for Manchester United.
Tottenham playmaker Rafael van der Vaart was surprised by the absence of Ferdinand and described him as 'still one of the best defenders in England and maybe in the world,' but former Spurs boss David Pleat and ex-England internationals John Barnes and Danny Mills have also been among those to back Hodgson's decision.
"I do understand Rio's disappointment," Eriksson said. "He was an incredibly important player for me in three tournaments, but we mustn't forget the injuries he has suffered this season.
"Roy has his reasons, otherwise he would not have rejected Rio - twice.
"It has been an entirely football-based decision. That's all there is to it. Remember, this is England. No squad is ever selected without criticism."