Cardiff City's 'whimsical' rebrand gamble on red
By Peter Shuttleworth
BBC Sport Wales
Last updated on .From the section Football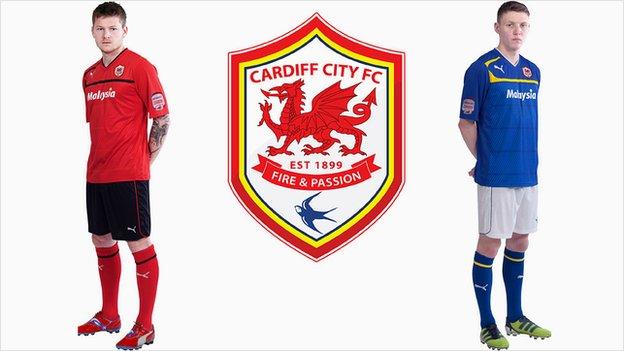 Cardiff City may be gambling their international marketing strategy on red - but a sports finance expert thinks the Championship club are "dreaming" if it will get them into the black.
Cardiff's controversial rebrand from blue to red, a dramatic U-turn as their , is because their backers think red will make the Bluebirds more attractive in the Far East market.
Blue is the colour for Champions League winners Chelsea and Premier League champions Manchester City but principal investor Tan Sri Vincent Tan wants his Bluebirds to turn red to "exploit and maximise its brand".
A £100m 'investment strategy'- including an upgrade to the Cardiff City Stadium, new training facilities, paying creditors and strengthening Malky Mackay's squad - has been promised for a club reportedly losing £1m a month.
It is not just their home shirts that have turned red - some of Cardiff's fans have too and professor Tom Cannon, a strategic development expert at the University of Liverpool Management School, thinks the "radical change" is "whimsical".
"The big question is what is the evidence that this kind of change will produce the commercial benefits which are being talked about, especially in Asia," said Cannon.
"Red is popular in Asia and in some Asian countries is seen as lucky.
"But Cardiff, making this colour change, are in an environment where Manchester United, Liverpool and Arsenal, to name just three teams, already play in red and have a massive profile and powerful Asian fanbases.
"I don't see any evidence that Cardiff playing in red will put them in position to compete against those giants who have the advantage of being successful in the Premier League.
"The logic is to build on success - and evidence suggests there are three things that drive your market in Asia.
"That is success on the field and Manchester United have built up their Asian business because of their 12 Premier League titles while Liverpool were successful during the 1970s and 1980s.
"The second element is television exposure but that is closely related to success.
"The third important element is the development of academy programmes in Asia and taking a longer-term view and United have an academy in China while Liverpool are in Indonesia."
Cardiff's owners have already personally kick-started grassroots football structure in their homeland using the Cardiff City brand and started a Malaysian youth league in Cardiff's name.
"But there are clubs that don't play in red that are successful in Asia," Cannon continued.
"Real Madrid, for example, grew their profile partly by signing celebrity players like David Beckham and partly by league and European success.
"If there was a strong existing Welsh connection to Asia, that could be an avenue but competing against established teams with Asian franchises will be amazingly difficult in the short to medium term.
"The numbers of a potential Asian fanbase are very intoxicating but generating revenue from that fanbase is a wholly different issue - and no-one in English or European football has successfully monetised that vast base.
"Reports suggest there are 300-400 million Manchester United supporters in Asia but how do you monetise it?
"There is a lot of declared interest in English clubs but the trouble is even the giants struggle to turn that fanbase into a revenue stream.
"A senior person at United told me recently, if we could only generate £1 of profit from every United fan in Asia then we could outspend Manchester City.
"Asian football fans wear a lot of shirts but an awful lot are not copyrighted so don't generate any finance for the club involved.
"Many workers in Asia are poorly paid and face enormous increases in food and energy prices as well as all the inflationary pressures we do. So if anyone that thinks they are going to get a £1 of profit from those fans in Asia, I think they are dreaming.
"Commercially the core revenue is gate receipts from a full stadium and making sure the club succeeds because if it succeeds it gets a bigger share of the relatively small amount of TV money available in the Championship.
"Seeking to replace fans at the Cardiff City Stadium who feel alienated by the rebrand with Asian fans on the basis of a shirt change is not a strategy I would recommend and seems rather whimsical.
"The last thing you want to do is alienate your current funders for some hypothetical fanbase which is not there yet."
Cardiff, who have suffered three successive Championship play-off disappointments on their top-flight quest, want to settle their substantial debt to Langston, owned by former owner Sam Hammam.
They also want to upgrade their infrastructure as well as bolster their squad with their £100m financial injection.
Cardiff rarely sell out their current 26,500-capacity home and their current training facility is three years old but Tan hopes the upgrade can attract "new partners and investors" as well as attract a worldwide fanbase.
"I am surprised that this proposal investment is so heavily dependant on shirt colour," said Cannon.
"If you are making this kind of radical investment, it would be nice to see a breakdown of where the £100m will go.
"Investors in British football have traditionally talked long and delivered short. The first test they must demonstrate is the willingness to spend serious money on serious players."