Clubs to shoulder new owner burden after SFA vote
Last updated on .From the section Football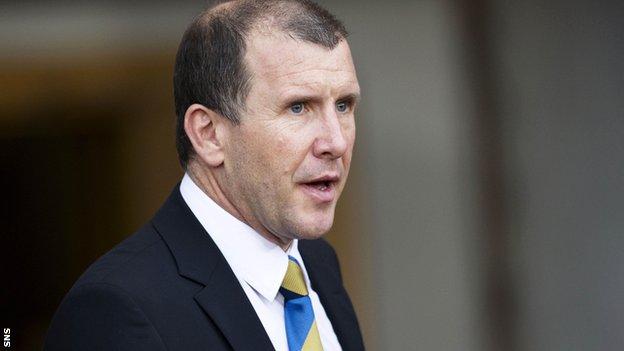 Scottish clubs will be obliged to conduct investigations into prospective new owners under new rule changes.
The change was passed unopposed at the Scottish Football Association's AGM at Hampden on Wednesday.
Rangers received a 12-month transfer embargo and £160,000 fine after the SFA charged the club and owner Craig Whyte with bringing the game into disrepute.
However, Rangers contested the decision and the Court of Session ruled the ban was outwith the SFA's powers.
Whyte was charged with three different rule breaches and found guilty of two, with the other "not proven".
Rangers were charged with six breaches, with five guilty verdicts and one "not proven".
Had it stood, the transfer embargo would have meant the club could only sign players under the age of 18 for the next year.
Rangers received the embargo and £100,000 fine for breaching rule 66 - bringing the game into disrepute.
A £50,000 fine was handed out for going into administration and £10,000 for failing to ensure that Whyte acted within rules concerning fit and proper officials.
Whyte failed to notify the SFA that he had been disqualified as a director for seven years in 2000.
Rangers' prospective owner Charles Green said the club's decision to take its case about the transfer ban to the Court of Session was the only route available.
He says an appeal to the Court of Arbitration for Sport was not possible, but his claim has been rejected by the SFA, who said no approach was made by Rangers to discuss appeal options.
At the Court of Session, Lord Glennie referred the case back to the SFA's appeal tribunal.
During Wednesday's AGM, SFA chief executive Stewart Regan said: "It is important that club owners take more responsibility to ensure that they sell their club to an individual or individuals who act responsibly and within the rules of football.
"The Scottish FA governs the whole of football and rather than spend millions of pounds on investigations into any number of prospective purchases across the game at all levels - which would be better kept within the game - it is important that the onus is on those involved in the sale of the club."