England move up to sixth in new Fifa world rankings
Last updated on .From the section Euro 2012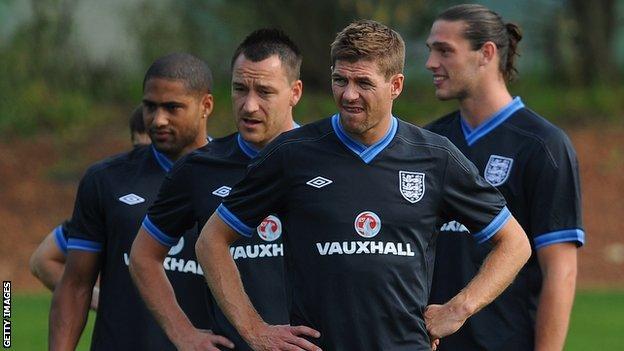 England are the fourth best international team in Europe ahead of Euro 2012, according to Fifa's latest world rankings.
Roy Hodgson's side has moved up one place, from seventh to sixth, after successive 1-0 friendly victories over Norway and Belgium.
Spain have retained top spot, while Germany and the Netherlands are third and fourth respectively.
Uruguay are second, while Portugal have dropped five places to 10th.
Croatia and Denmark are the other two European sides who occupy the top 10, while Italy (12th), Russia (13th) and France (14th) sit outside.
The Republic of Ireland, who open their Euro 2012 campaign against Croatia on Sunday, are 18th in the world.
Poland, despite moving up three places, are the lowest-ranked team in Euro 2012 in 62nd, while fellow host nation Ukraine are 52nd.
Uruguay's position is an all-time high for the South Americans, while fifth-placed Brazil and seventh-placed Argentina make up the rest of the top 10.
The Fifa world rankings are compiled every month, with ranking points accumulated according to results, the importance of the matches played and the strength of opposing teams.
Fifa world rankings - top 20
1. Spain 2. Uruguay 3. Germany 4. Netherlands 5. Brazil 6. England 7. Argentina 8. Croatia 9. Denmark 10. Portugal 11. Chile 12. Italy 13. Russia 14. France 15. Greece 16. Ivory Coast 17. Sweden 18. Republic of Ireland 19. Mexico 20. Colombia
Other selected: 38. Wales 41. Scotland 52. Ukraine 62. Poland 103. Northern Ireland