Benin's Squirrels rocket up Fifa rankings
Last updated on .From the section Football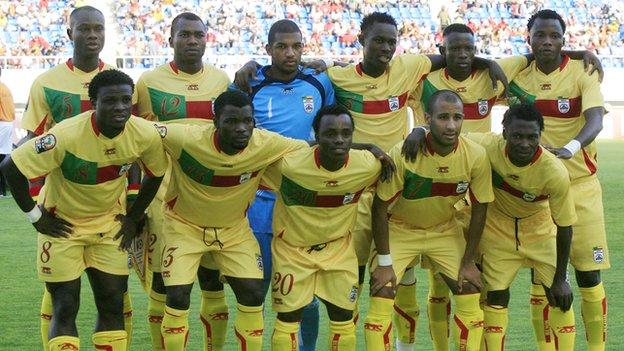 Benin were the biggest risers in the latest Fifa rankings as the Squirrels climbed a remarkable 52 places.
The Beninois beat Mali, who finished third at this year's Africa Cup of Nations, 1-0 in their opening 2014 World Cup group qualifier on Sunday.
They now stand 72nd in the ratings system, some 13 places behind their best ranking in both 2009 and 2010.
The rise will be a boost for French coach Manuel Amoros, who took charge of the West Africans in January.
Elsewhere, Central African Republic rose 30 places to 92nd place.
Ivory Coast remain Africa's best-ranked side but dropped down a place in the global rankings to 15th.
Ghana and Algeria stay second and third respectively, while Libya have moved up for fourth after both Mali and Zambia lost at the weekend.
Ivory Coast (16)

Ghana (25)

Algeria (32)

Libya (42)

Mali (43)

Zambia (43)

Tunisia (46)

Egypt (48)

Gabon (49)

Sierra Leone (59)

Nigeria (60)

Senegal (63)

Cameroon (64)

Guinea (67)

South Africa (68)

Morocco (70)

Benin (72)

Cape Verde Islands (77)

Congo (83)

Angola (84)

Burkina Faso (86)

Central African Republic (93)

Uganda (94)

Togo (98)

Sudan (101)

Zimbabwe (106)

Malawi (107)

Gambia (108)

Kenya (111)

Chad (112)

Equatorial Guinea (114)

Botswana (116)

Mozambique (117)

São Tomé e Príncipe (118)

Rwanda (119)

Niger (122)

Liberia (124)

DR Congo (127)

Ethiopia (130)

Burundi (131)

Namibia (134)

Tanzania (139)

Madagascar (163)

Guinea-Bissau (169)

Lesotho (170)

Swaziland (179)

Comoros (187)

Seychelles (189)

Eritrea (190)

Somalia (191)

Mauritius (192)

Djibouti (197)

Mauritania (203)