Euro 2012: 'Sabotage' might be to blame for Ukraine illness
Last updated on .From the section Euro 2012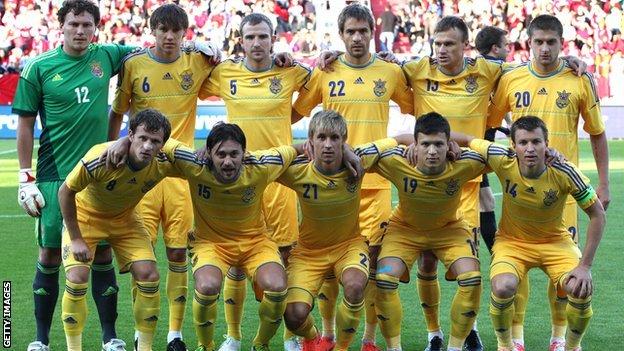 Ukraine's manager says an act of "sabotage" might have caused the outbreak of food poisoning affecting 10 members of his Euro 2012 squad.
The players suffered the illness prior to the friendly against Turkey in Germany, which they lost 2-0.
"It happened in Germany, but it is impossible to establish the causes - all ate different food," Oleg Blokhin told Ukraine television.
"It may have been sabotage, I do not know. It cannot be accidental."
Striker Andriy Shevchenko and midfielder Anatoliy Tymoshchuk are two of the players affected.
However, Ukraine were hopeful the players would be fully fit in time for their first group match on Monday.
"They were out running this morning, so we would expect that they will all be fine for the opening game against Sweden," said a team spokesman.
Dynamo Kiev midfielder Denys Garmash was the worst affected, but was keen to prove himself after being omitted from his country's previous two games.
"He was in the roughest condition," said team doctor Leonid Myronov. "He was vomiting violently and we had to try to clean his stomach using all available methods of detox. He was extremely eager to play and said before the game he felt OK."
The initial problem was reported by the team masseur but it was not long until several of the co-host nation's leading players complained of similar symptoms.
"He could barely finish his work with the team," added Myronov. "At 4am [on Tuesday] Denys Garmash came to me with the same trouble.
"A bit later Taras Mykhalyk, Andriy Voronin, Artem Milevsky, Andriy Shevchenko and Anatoliy Tymoshchuk all complained of feeling indisposed."