Mali 'disadvantaged' by failure to play at home
Last updated on .From the section Football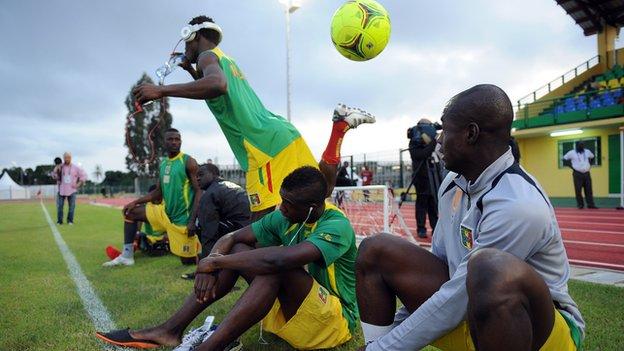 Mali's Football Federation (FMF) says the national team will be weakened by playing this weekend's home World Cup qualifier in neutral Burkina Faso.
Sunday's Group H tie against Algeria will now be played in Ouagadougou.
"It's a huge disadvantage to us and we would have preferred to play at home," said FMF official Boubacar Thiam.
"We're disappointed and that's the least we can say."
Preparations for the Eagles, who finished third at this year's Africa Cup of Nations, have also been hit by a spate of injuries to the squad.
Midfielder Samba Diakite, defenders Abdoulaye Maiga and Ousmane Coulibaly are all missing - as is recent AC Milan recruit Bakary Traore.
It leaves stand-in coach Amadou Pathe Diallo with a headache as he plans to take on an Algerian side that thumped group rivals Rwanda 4-0 in their opening 2014 World Cup group qualifier on Saturday.
Mali began their campaign in disappointing fashion as they lost 1-0 in Benin.
"I believe that AC Milan have asked Traore to undergo an eye operation for the start of a cataract," FMF General Secretary Thiam told BBC Sport.
"There are a lot of injuries but no players who refused to play," said Thiam in reaction to local media reports.
The Malian also indicated that the FMF feels that it has suffered from the decision to play World Cup qualifiers on consecutive weekends.
"It is really difficult for us," he said.
"Perhaps with 2-3 weeks between games, things would have been easier."
After one round of matches, Algeria top Group H with three points, leading Benin on goal difference, with both Mali and Rwanda looking for their first points of the campaign.
Rwanda host Benin in the weekend's other group tie.