Rangers' Murray Park training ground may be renamed

Last updated on .From the section Football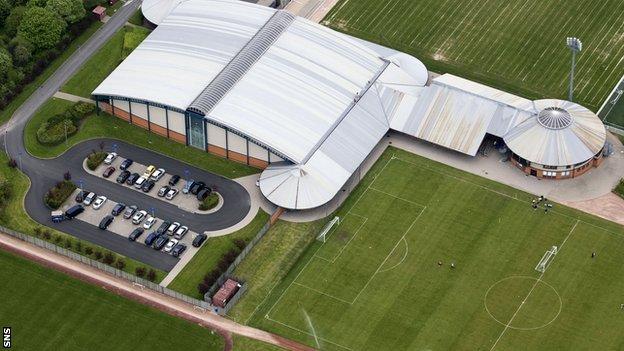 Prospective Rangers owner Charles Green is to ask fans to vote on renaming Murray Park, the club's training ground at Milngavie, just outside Glasgow.
Green is suggesting fans name the facility after Moses McNeil, a Rangers founder, or the late Ibrox winger Davie Cooper when they renew season tickets.
The complex opened in 2001 during the lengthy tenure of former Rangers owner Sir David Murray.
He told BBC Scotland he had no comment to make on Green's proposal.
Green issued a statement following a meeting with the Rangers Fans' Fighting Fund on Wednesday.
In it he said he had given fans details of his consortium's "vision for the future of Rangers" and acknowledged that supporters are wary of his plans, "given the recent past at Ibrox".
"I will continue to have dialogue with the fans and inform them every step of the way," he said.
"We will be taking Rangers forward to better days and one idea I put forward today is my plan to rename Murray Park.
"Following discussions with the supporters, we will be asking season ticket holders to vote on whether to rename Murray Park, either the Moses McNeil Academy or the Davie Cooper Academy.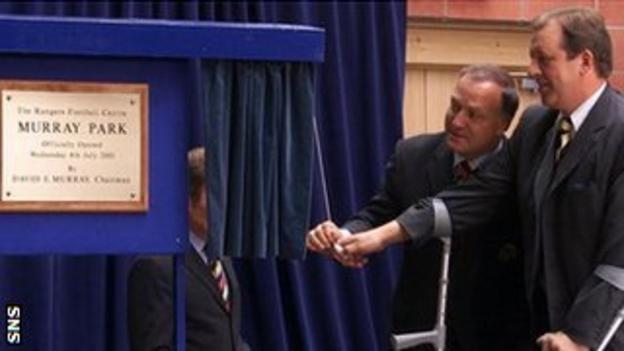 "We will be asking supporters to vote when they renew their season tickets."
Murray, who owned Rangers from 1988 to 2011, admitted in March that he felt his reputation would be tarnished by his decision to sell the club to Craig Whyte, who subsequently took the club into administration and withheld taxes from HMRC.
"We all enjoyed a lot of success together. Now all of a sudden it's all my fault," he had said.
"I accept at the end of the day I was the captain of the ship, and I take my share of criticism."
McNeil was one of the club's founders in 1872, while fans' favourite Cooper played for the club from 1977 to 1989. He died from a brain haemorrhage in 1995, aged 39.
John Macmillan, general secretary of the Rangers Supporters' Association, was ambivalent about the name change.
He told BBC Scotland that, while he was pleased to see the fans being consulted, he felt Murray had been generally good for the club in his reign - but that he would be remembered for selling the club to Whyte.
"I have an open mind on that one. I wouldn't be too concerned about it," said Macmillan about Green's idea, which has been mooted on fans' websites in recent months.
"It is inevitable that something like this would come come up.
"In my opinion, David Murray did a lot for the club. For three-quarters of the time he was good for Rangers.
"The fans were not complaining when things were going well.
"Where it fell down badly is this notion of dual contracts, though we must wait to see if that is proven, and particularly his handling of the handover to Craig Whyte.
"It is very difficult to believe that a man with his empire could be duped. It is hard to understand and believe that."
And Macmillan added: "It's up to the fans. Both names are close to Rangers, particularly Davie Cooper, who is a more recent one, obviously.
"By the feeling of what has happened, I feel there is a good opportunity one of those names will be accepted.
"If it's season ticket holders who are voting, if you get a majority of those, then it's a fair and democratic process."
Of greater concern to Macmillan is establishing some facts and figures about Green's consortium.
Similarly, some Rangers supporters on Twitter and message boards are questioning the timing of Green's suggested vote.
He does not own the club: his consortium's proposal for a Company Voluntary Arrangement will be voted on by creditors at a meeting on 14 June.
"We are still short of information about his plans and that is a worrying thing," said the general secretary.
"Fans will be thinking long and hard about renewing their season tickets unless the information is in the public domain.
"Fans need to know the money is being used wisely and going to a safe haven.
"I respect all the people on the Fans' Fighting Fund but the general fans need a very clear statement either from the Fighting Fund or from Charles Green about what his plans are for the club."