Euro 2012: 'Weight' of expectation on Ireland as tournament begins
By Thomas Niblock
BBC Sport NI
Last updated on .From the section Euro 2012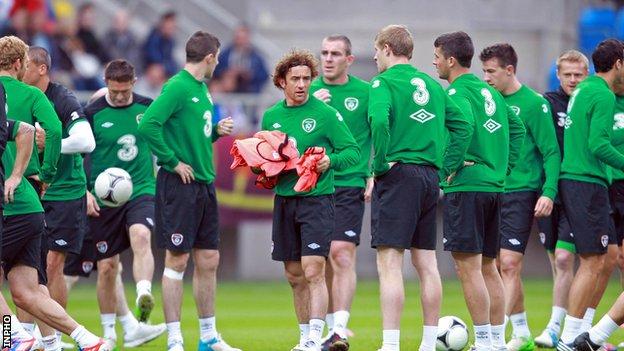 There is nothing quite like a budget airline to put the fear of God into a group of Irish journalists.
Television cameras, editing equipment, microphones and cables are chunky material, and we knew upon reaching Bologna airport, on route to Budapest, that Irish charm simply would not work.
The snappers were up first to check-in.
Eighty euros for slightly overweight baggage. "That's not good," my cameraman Davy said.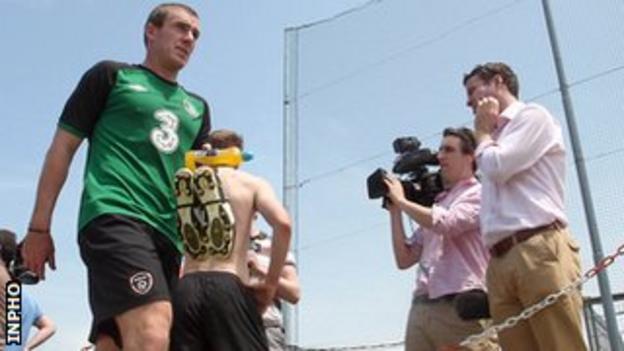 The written journalists were OK. A laptop is as heavy as it gets for them.
Next up were the television crews.
Davy and I try to formulate a plan with TV3.
Then we meet Matt, a cameraman with Sky. Cue panic. Disgruntled Matt has just been charged 600 euros for extra baggage.
We had pre-booked extra baggage, but as we watched the Italian lady check in other customers, we knew we were in trouble.
Suit jackets squeezed into a tripod and wires in pockets, we eventually get through.
On a lighter note, Giovanni Trapattoni and Marco Tardelli were added to the Montecatini walk of fame on Saturday night.
They are in prestigious company alongside Audrey Hepburn, Burt Lancaster, Prince Albert of Monaco, Grace Kelly and Pele, who all have their names engraved in gold on pavements around Montecatini.
The town facilitated a question and answer session with Trapattoni and Marco Tardelli in the town square.
Hundreds of people turned up.
An elderly woman tried to get on the stage. She fell and Trapattoni helped her to her feet and posed for a photo with her.
It was apparent that the former Italian coach was going to be mobbed. A police car was brought in to drive Giovanni away.
I witnessed another elderly lady banging on the police car window to get the Ireland manager's attention. He was like a rock star followed by a posse of grannies.
He was eventually whisked away, blue lights flashing and sirens screeching!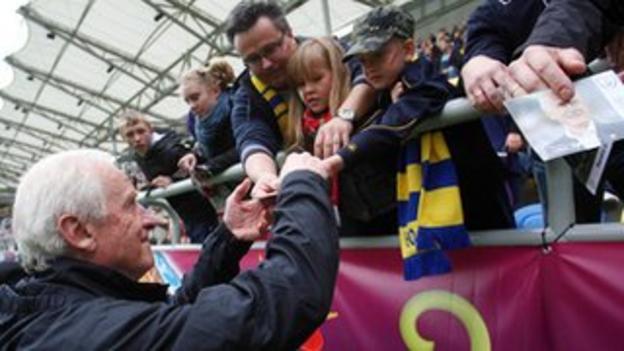 Legendary in Italy, but severely questioned in Hungary.
The team is tried and trusted and so too is the 4-4-2 formation, but in Monday night's friendly, Hungary should have been out of sight at half time.
Trapattoni was grilled in the post-match press-conference in Budapest. He was clearly agitated.
The truth is, the system looked weak. Hungary are not in Europe's top 10 - Croatia, Spain and Italy are.
The entire Irish team arrived in Gdansk to a reception at two o'clock in the morning with all of their players fit and well. That includes John O'Shea and Shay Given.
Compare that to England - more importantly compare it to Italy and Croatia.
No Domenico Criscito and Andrea Barzagli's calf injury may rule him out of Euro 2012.
Ivica Olic perhaps thought it couldn't get any worse after missing his penalty in the Champions League final, but it has. Croatia have lost their irreplaceable striker because of injury. Ireland are fortunate.
The 14-game unbeaten run continues. And remember, Trap has managed the Irish against his home country on three occasions and is yet to lose. There are positives, no question.
Trap also has options.
Despite the theory that the Republic have no strength in depth, it can be argued that the team looked more dangerous after the introduction of Jonathan Walters and Simon Cox.
I'm not suggesting that Doyle and Keane should - or will - be dropped, but Walters and Cox are options, certainly as substitutes.
I would, however, fear for James McClean.
He wasn't used against Hungary. Stephen Hunt was given the nod ahead of the Sunderland winger.
Considering that Trapatonni said the team that plays against Hungary will start against Croatia and is likely to play Spain and Italy too, the fear from McClean's point of view would be that he doesn't play at Euro 2012. But it's early days yet.
His fellow Derryman Darron Gibson should taste a sizeable amout of game-time in Poland.
The countdown is on.
The Republic of Ireland trained in Gdynia on Tuesday night for the first time. It was a session open to 10,000 supporters.
I spoke to one, who said: "these opportunities don't come around too often, we have to make the most of it".
I thought he was talking about meeting the players but he replied: "No, I'm talking about playing at a major tournament.
"Korea was 10 years ago."
Let's hope Trap and the players realise that too.
[Follow Thomas Niblock on Twitter for the very latest from the Republic of Ireland camp @thomasniblock]