Forest Green Rovers: Dale Vince hits back at Horsley claims
Last updated on .From the section Football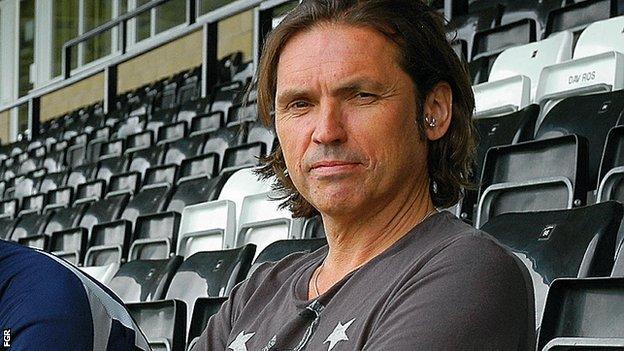 Forest Green Rovers chairman Dale Vince has defended the running of the club after claims made by departing vice-chairman Trevor Horsley.
Horsley announced his resignation on Wednesday after 20 years with the New Lawn outfit, saying he no longer had an influence under Vince's rule.
But Vince responded, telling BBC Gloucestershire: "I don't acknowledge the description Trevor gave.
"He complains about not being informed but he kept himself out of the loop."
Vince continued: "I like to involve the whole team - we have a good discussion and make decisions between us.
"Trevor hasn't been to a board meeting all year so he's not close to the decisions that are being made.
"He's drifted away from the club and the board and that's a shame."
Yorkshireman Horsley oversaw the Nailsworth club's rise to the top of the non-league pyramid, where they have stayed for 14 years.
Green energy tycoon Vince launched a takeover of Rovers in 2010 and rescued them from severe financial trouble.
Horsley moved to become joint vice-chairman, alongside David Drew, and remains their second largest shareholder.
However, he opted to resign his post because he said he could no longer "play his part" under Vince's regime.
But Vince insists Horsley did not voice any issues he had during their time working together.
"The first I heard of it was on the radio," the chairman said.
"Trevor could have come to me and spoken to me. But it seems like he's been stewing on it and he's just chosen to quit and go on the radio to vent about it. I don't really understand what his grievances are.
"I think it's a real shame he's leaving. It's a mistake and I'll think he regret it later.
"Forest Green have turned a corner and I hope we'll find ourselves in the Football League before long. I wanted him to be a part of that and to stay on the board, so he can benefit from all the years he's put in, but he's opted not to."