Benin's Sessegnon and Omotoyossi target 2014 World Cup
By Oluwashina Okeleji
BBC Sport, Lagos
Last updated on .From the section Football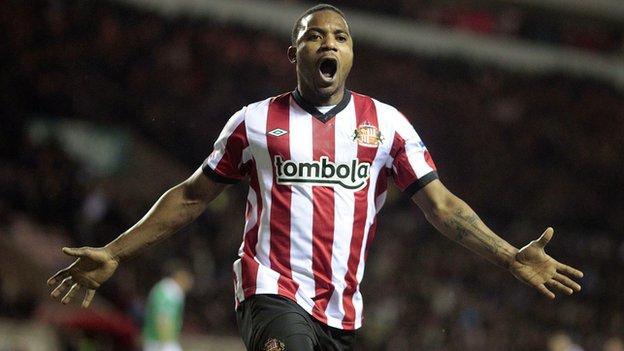 Two of Benin's most senior players are hopeful they can beat the odds and reach their first World Cup in 2014.
The play Rwanda in Kigali on Sunday a week after Omotoyossi's goal in Cotonou gave the Squirrels a winning start to their campaign.
"We beat them 3-0 in Rwanda in 2009 but so much has changed between then and now," Omotoyossi told BBC Sport.
"The most important thing is to play every game with a great determination to win and not to draw, and it starts with this one.
"No one gave Togo or Angola any chance of making it to the 2006 World Cup, so why not Benin in 2014?
"I know it's too early to start dreaming but you don't achieve anything without working hard and showing a determination to succeed - so I think we are on the right path now."
Benin football has been dogged by administrative crises since January 2011 when 12 of the 15-member executive committee resigned after falling out with the president of the federation, Moucharafou Anjorin.
Anjorin subsequently spent several months in jail after being accused of embezzling US$650,000 of sponsorship money from a mobile phone company, a charge that he denied.
"It [the crisis] had a terrible effect on the team but we [the players] are determined to give our fans something to finally cheer about," according to Omotoyossi.
Meanwhile Sunderland's player of the year, Sessegnon, says their 52-place rise on the latest Fifa World Rankings should be the catalyst for success.
"We are obviously doing something nice and the latest ranking is a boost for us to do a lot more," he said.
"It's an indication of progress but we are not there yet, we need to do a lot more and justify our quest to be among the best in the world.
"The fans are fully behind us, and we need to prove that even though we don't have big names, we do have a family of fighters that give their best and represent Benin effectively.
"If we focus more on our game, take our battles to our opponents and stay as one family then next World Cup will be a big possibility."
Benin's new coach Manuel Amoros, a former France international who won the 1984 European Championship, also believes his side could cause an upset and reach the World Cup in Brazil.
"Can Benin be the next African surprise? Why not! We are working to do so. But there is no secret: we will need time and stability," he told the Fifa website.
He has seen his squad for the trip to Kigali cut to 19 after injury to Aka Salomon Wisdom, who plays his club football in the Maldives with Valencia, forced him to withdraw from the squad.