Uefa told to take tougher line against racism in football
By Alistair Magowan
BBC Sport
Last updated on .From the section Euro 2012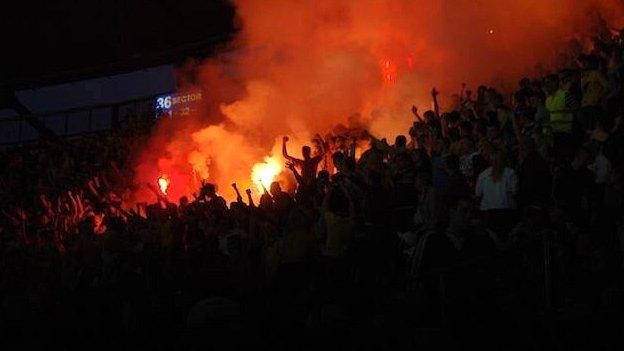 Uefa has been told it needs to take a stronger stance against racism after the Netherlands squad was abused during a training session in Poland.
With Euro 2012 about to kick off, Clarke Carlisle, chairman of the Professional Footballers' Association, says Uefa must not stand idle.
"Uefa need to be front and centre on this topic," he told BBC Sport.
"They need to make sure if anything does arrive it's dealt with swiftly, efficiently, harshly and uniformly."
Carlisle, who has personally witnessed anti-Semitic abuse in Poland as part of a documentary on racism in football added: "I'm hopeful it will be a good championship but I am apprehensive.
"I really do believe there are going to be several incidents where racist abuse will come to the fore. It will be a real test of Uefa's strength of character and the protocol they have put in place to empower their officials to deal with these situations."
Netherlands captain Mark van Bommel said monkey chants were aimed at team-mates as they warmed up in front of 20,000 fans at Stadion Miejski, the home of Wisla Krakow.
Uefa has confirmed there were "isolated incidents of racist chanting" but it has not revealed whether it is investigating the incident.
Carlisle, 32, admitted the incident with the Dutch team might be a grey area given that it happened away from a match.
But he said: "I am disappointed by the hesitancy to confirm it, and to put the message out that this is something they want to take control of and investigate."
Euro 2012, which is being co-hosted by Poland and Ukraine, will get under way when Poland face Greece at 17:00 BST on Friday. The tournament, which runs until 1 July, is already under the spotlight after a BBC Panorama documentary exposed incidents of racism at stadiums in both Poland and Ukraine.
Former Burnley and Watford defender Carlisle has also been making a separate documentary and said he saw "horrible" chanting in the Wisla Krakow-Crakovia Krakow derby, as seen on the Panorama programme.
He said: "What I'm fearful of is racist groups that operate in Poland and Ukraine, some of which I experienced first-hand, using the tournament as a platform to air their political views and shout their bigoted opinions.
"My hope is that fans have a sense of pride in as much as they want to accept the game in the correct spirit and that they want to show Poland and Ukraine as forward-thinking nations and be inclusive.
"I went to the Krakow-Crakovia derby and I heard the monkey chanting myself. I heard the 'gas the Jews to the ovens' chant to the Crakovia fans. It was horrible.
"When I spoke to chief of police in Krakow, he said there had been no incidents of racism or hooliganism in the past 14 months in the stadium. Then we went inside the stadium, saw half a dozen [incidents] and got them on camera.
"So I don't feel confident Euro 2012 is going to pass without incident when the authorities are painting a picture that doesn't reflect the reality."
Uefa president Michel Platini said his organisation had done much to tackle racism in football. However, he said that players could be booked if they leave the pitch if they were racially abused.
Carlisle, a campaigner for anti-discrimination initiative Kick It Out, said he would back footballers who left the pitch if they "felt the situation was not being taken care of".
He also argued that he would be wary of Uefa's response to racism in the tournament based on past sanctions.
The Bulgarian Football Union was fined £34,000 when England players were abused in a recent Euro 2012 qualifier.
Manchester City received a bigger fine for several cases of returning to the pitch late than Porto were given when Mario Balotelli was racially abused by the Portuguese club's fans.
"The reason I have reservations about Uefa is because their actions in the past on incidents of this type don't reflect other actions in the European game," Carlisle added. "You see fines being dished out to national associations that are less than those for red cards."
Piara Powar is another key in football's fight against racism.
The executive director of Football Against Racism in Europe said he believed stadiums would be safe for supporters during the tournament because of a different type of crowd.
On the abuse directed toward the Netherlands, he said: "If the captain says, 'My team-mates were racially abused, I heard it', then one expects any FA to back the captain.
"We're very clear with Uefa that any incident of this kind needs to be looked at."
Rafal Pankowski, of Polish anti-racism body Never Again, said: "We will monitor every match, hoping there will be no major incidents and if they are they will be reported and dealt with. We have to condemn the recent abuse of the Dutch team in Krakow. It is unacceptable and must be investigated."
Since the Panorama programme aired on 28 May, the Polish and Ukraine governments have defended their respective countries, saying that the show exaggerated the problems.