Dieumerci Mbokani's exile from the DR Congo squad over
By Patrice Citera
BBC Sport, Kinshasa
Last updated on .From the section Football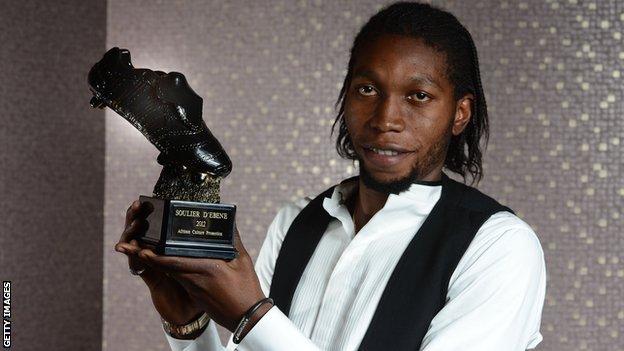 Striker Dieumerci Mbokani has begun training with DR Congo ahead of this Sunday's 2014 World Cup qualifier against Togo.
It brings to an end a 14-month exile from the Leopards' squad that began when former coach Robert Nouzaret vowed not to pick him again after a disagreement between the two.
Current coach Claude LeRoy says his squad is now complete.
"It is a formidable news for me, for the team and everyone," he said.
LeRoy had wanted Mbokani to return to international duty as soon as he took over as coach in September but the negotiations have only just born fruit.
"It is the end of a long battle, I didn't need any other player apart from Mbokani - he is the last player I have been waiting for."
Mbokani asked for forgiveness for his suspension by Nouzaret and also for turning down LeRoy's previous invitations.
"I'm so sorry for having not come to play for our national team for such a long time," he said.
"It's because I was angry and that's why I didn't come when coach Leroy was calling me.
"Everything is fine now as I am no longer angry. I hope I can contribute so that we can beat Togo on Sunday."
Mbokani, who trained with the rest of the squad on Wednesday, is coming off the back off a successful season in Belgium where he helped Anderlecht win the league title.
The 26-year-old also won Belgium's Ebony Boot award for the country's best African Player or with African roots.