Chris Hughton: Norwich City turn to Mr Nice Guy
By Chris Osborne
BBC Sport
Last updated on .From the section Football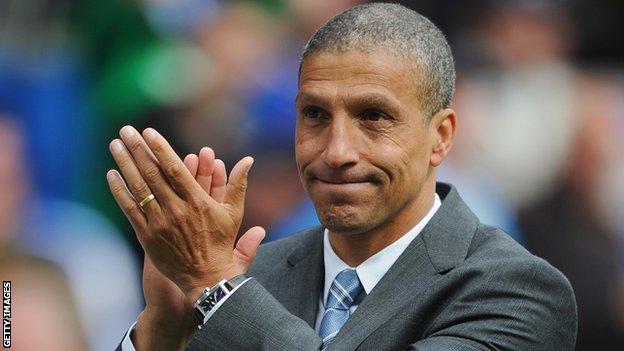 Chris Hughton was sacked as Newcastle United boss 18 months ago, almost to the day.
The Tynesiders have, incidentally, blossomed under Alan Pardew.
But the outcry which followed Hughton's departure was as much steeped in the former Tottenham defender's managerial ability as it was his likeability.
Chris Hughton is a popular man in football. And that is why very few have begrudged him his opportunity of becoming Norwich City boss.
Peter Lovenkrands, who played under Hughton at St James' Park, told BBC Sport: "He's a players' man. He understands players' needs and what they want.
"He goes in as a friend as well as a manager. When I was under him I thought he was an absolutely great guy to work with.
"That's why so many people liked him and it works in his favour. Norwich have been very lucky to get him. He's a fantastic manager."
Colin Tattum, chief sports writer for the Birmingham Mail, says Hughton had a similar effect at Birmingham City.
"The feedback of every player to a man - and even some of the Birmingham players who were on their way out early last summer - is that they all enthused about his methods on the training ground," he said.
"They felt there was always a purpose to training and that's one of his strengths, he can get his message across."
Lovenkrands had already spent half a season at Newcastle when Hughton persuaded him to make his stay a longer one ahead of the 2009-10 Championship campaign.
It was a move that paid dividends for the Dane and the club, as he went on to hit 16 goals in a title-winning campaign.
"I was close to joining Birmingham," the former Rangers forward recalled.
"But when he called me the only thing on my mind was to go and play for him. At Norwich he won't have much trouble getting players in because a lot of people want to play for him."
Hughton impressed at his unveiling as the new Canaries boss on Thursday, conveying respect for his former employers Birmingham City, while displaying a streak of honesty when admitting the prospect of a new challenge was too good to turn down.
It was a continuation of the grace he showed at Blues against a backdrop of financial uncertainty off the field.
"Birmingham were in such a mess last summer they really needed a steady hand on the tiller, somebody who would graft, but also somebody who would accept the circumstances and get on with it," said Tattum.
"He always conducted himself with a lot of class and dignity and never moaned about the teams lot. The way he conducted himself was impeccable.
"He understands the role of the media. Saying that, it's very difficult to get anything out of him. He does keep his cards close to his chest.
"But he was very approachable and dealt with everybody with the utmost respect."
It is an open and warm approach far removed from that of his stoic predecessor Paul Lambert,
But the former Republic of Ireland full-back is not all smiles and niceties.
"He can raise his tone. Even though he's a nice guy he can be tough when he needs to be tough," explained Lovenkrands.
"He's really good at putting his foot down when he needs to."
Lovenkrands's high regard for Hughton was cemented over two years ago, when the 32-year-old lost his father to Alzheimer's.
"His understanding of that was absolutely second to none," he said. "That meant a lot to me. It's probably why I have such a close relationship with Chris.
"He would help me by saying if I didn't feel up to training or playing it was my decision entirely.
"That made me want to play for him, even though it was through tough times. I have to thank him so much."
It is not surprising that Lovenkrands was dismayed as much as anyone when Hughton was sent packing from St James' Park.
But, after taking Birmingham to the Championship play-offs, his return to the Premier League has cheered the former Schalke forward.
"He took us mid-table at Newcastle and when he left he deserved to be at a top club in the Premier League," said Lovenkrands.
"It was a bit sad. I felt sorry for him the way it ended. I'm pleased he's done well for himself since.
"Norwich have got a great scoop getting him and he'll do a great job for them. If he gets it right there, Norwich can take him a long way."