Hearts job not a poisoned chalice, says John Robertson
Last updated on .From the section Football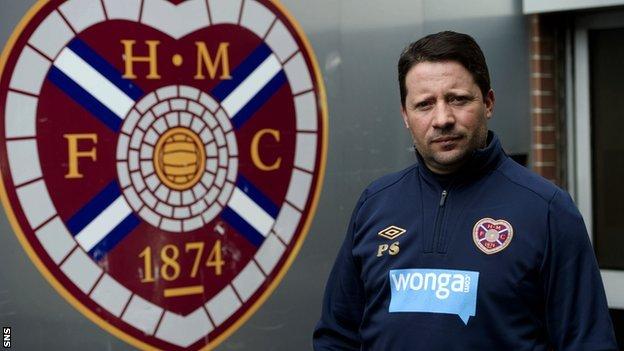 Former Hearts manager John Robertson insists being at the Tynecastle helm is not a poisoned chalice as the Edinburgh club begin the search for a new boss.
Paulo Sergio left the club after rejecting a new contract, the ninth man to leave the manager's job under current owner Vladimir Romanov.
"They'll look for another route again," Robertson told BBC Scotland.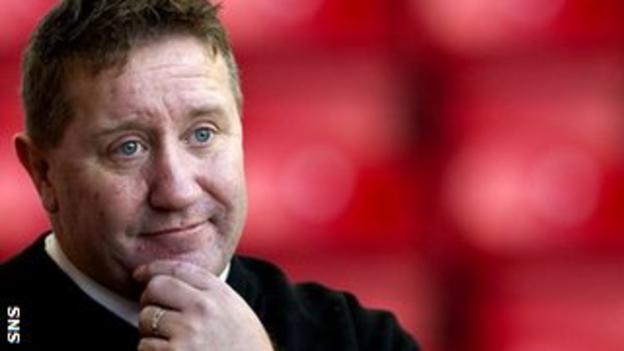 "The opportunity's there for the younger lads but they'll still need to retain a lot of the senior players."
Robertson believes budget cuts meant it was "always going to be difficult" to keep Sergio in post.
"This is a significant move from Hearts that they're cutting back," he said.
"It's disappointing because I'm sure everybody at the club would've loved to have seen Paulo Sergio build on last season's Scottish Cup win.
"I think he was on a substantial contract at [former club] Sporting Lisbon and Hearts were paying some of that and Sporting Lisbon will still paying a huge amount of his wages until the end of the season.
"We know there's going to be drastic budget cuts at Hearts and there's going to be a lot more young players but I'm sure they'd rather have had him at the helm.
"They have been living beyond their means in the last four or five years.
"They've decided that they can't do it anymore, that they have to be sustainable and live within their budgets."
Robertson was the first manager to leave after Romanov's takeover and several of his successors, including Sergio, have not always had full autonomy over first team matters.
"I don't think it's a poison chalice," added Robertson.
"There's always going to be a certain degree of advice given to each coach.
"We have a very British/Scottish way of looking at things whereas on the continent this is the norm; owners and directors have a huge influence on the team.
"In fact, in most countries the director of football's the man that actually signs the players and the coach is given the players to get on with the job.
"We've slowly got used to the fact that, at Tynecastle, there is a degree of advice given from certain areas and the managers tend to get on with it now."