Stephen Thompson doubts Rangers newco's SPL chances
Last updated on .From the section Football
Dundee United chairman Stephen Thompson believes Scottish Premier League clubs would not vote a Rangers 'newco' into the league as things stand.
Prospective Rangers owner Charles Green may relaunch the club as a new company.
"It wouldn't be just a simple yes or no vote, they'd have to negotiate their way back in again," said Thompson. "That might not be easy for them."
Meanwhile, Thompson revealed he is in talks with manager Peter Houston's agent about a new deal.
Rangers currently await the outcome of a company voluntary arrangement proposal which will dictate whether the club can continue in its present form.
Should the CVA be rejected by creditors, it is likely Green would attempt to transfer the club's assets to a newco, including Rangers' share in the SPL.
The decision over whether the newco could replace the existing Rangers in the league would be taken by the other 11 member clubs.
As well as financial problems, Rangers have been fighting footballing sanctions handed out by the Scottish FA and succesfully overturned a 12-month transfer embargo at the Court of Session, with the governing body told to consider issuing a different punishment.
"I'd have my doubts whether they'd get sufficient votes to get back in," said Thompson.
"There's been a lack of remorse shown. Views have hardened.
"Taking things to a court of law hasn't helped. That's certainly hardened views of people within the game.
"Next week the CVA will be decided. Next week will be the turning point and we'll see where it goes from there."
Thompson has received "emails and letters in the hundreds" from fans opposed to a Rangers newco being admitted to the SPL and the chairman suspects the issue is already having an effect on season ticket sales.
"One or two are holding back, I've no doubt about that and that effects what I'm capable of doing with regard to bringing players in," he said.
"It's not just people who are 15, 16-years-old on message boards, I'm talking about people writing in who have been season ticket holders for 30 or 40 years with very, very strong feelings.
"It's damaging for the game. Most fans of other clubs outside Rangers are fed up with the whole scenario.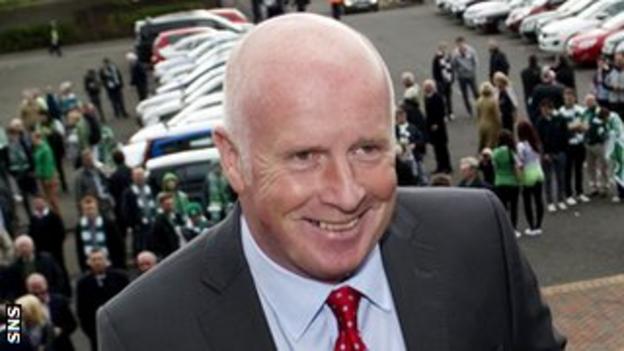 "All we really want is clarity so that we can all move on."
Houston has won the Scottish Cup and led United into Europe three seasons in a row since taking over during season 2009-10 and Thompson is hopeful of retaining his manager and adding to the current squad.
"We're talking to him [Houston] and his agent about a possible new contract," added Thompson.
"We're not necessarily in any rush to do it. We're getting on well. We're very, very open about things.
"I'm very pleased with the way things are, there's a bit of stability about the club. Peter's now been at the club either as assistant manager or manager, for nearly six years.
"Stability to me is a big thing. You can develop players that way, you can put in place ideas that you actually can see through.
"I'm hoping that we can come to an agreement but time will tell.
"There's a lot of good things going on at our club. We're hopeful of one or two more signings. I think we've got an exciting team.
"Nobody's for sale, we're not under the same pressure as we were last year from the bank. Of course if somebody came in with a ridiculous offer, we'd have to look at it.
"I want to keep the team together as much as we can and have an exciting season next year."