Wild Cats hope to change country's image
By Durosimi Thomas
BBC Sport
Last updated on .From the section Football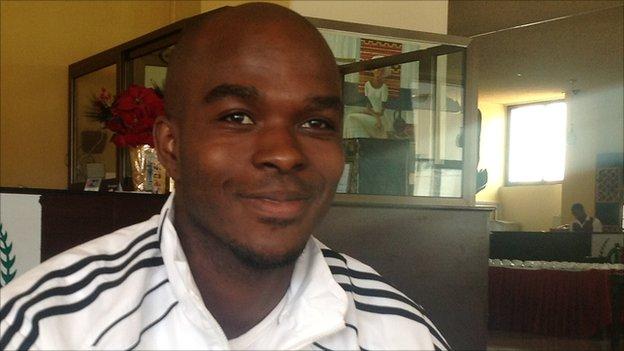 The Central African Republic's top striker Foxi Kethevoama believes the team's recent achievements will give their country a new image.
"We have gone through many years of difficulty," said Kethevoama, as the CAR prepare for Sunday's World Cup qualifier against Ethiopia.
"Football is making progress in our country and we will do our best to put smiles back on the faces of our people.
"We have great fans who support us all the time, so that motivates us."
Foxi, who scored both goals against Botswana, is one of several players based outside the poverty-stricken country.
He plays in Kazakhstan for Astana. He has also had stints in Gabon and Hungary.
The CAR has long had a reputation as one of the most unstable nations in Africa.
Spare a thought, therefore, for the country's football authorities.
Since gaining independence from France in 1960, they have found it impossible to put together a decent national team.
The national team - the Wild Cats - have withdrawn from numerous Africa Cup of Nations and World Cup qualifiers over the years.
In a land plagued by civil wars and military coups, it is not difficult to see why.
The state of the game has often mirrored the political climate in the country.
But things are looking up for one of the poorest nations on earth.
Two years ago, the CAR was ranked 202 by Fifa, but after last weekend's stunning 2-0 win over Botswana in a 2014 World Cup qualifier, the Wild Cats are now 93rd.
The victory over Botswana's Zebras was their first ever in World Cup qualifying since becoming a member of Fifa's so-called football family in 1964.
Last weekend's win in Bangui follows on from their last African Nations Cup campaign which saw them denied a spot in Gabon and Equatorial Guinea on the final day of the qualifiers after a 2-0 defeat to Algeria.
Incidentally, the Wild Cats beat Algeria in October 2010 to record their first qualifying win in any competition since 1973.
Another of their star players is defender Kelly Youga, who plays in England for Yeovil Town on loan from Charlton Athletic.
He told BBC Sport that as long as they continue to produce results on the pitch, people's perceptions of their country will eventually change.
"Africa is a rich continent with talented footballers and that includes my country.
"Over the past five years or so, the federation has been scouting for players and we're beginning to see the results of their efforts.
"We hope that what we do on the pitch influences other aspects in the country's development.
"We're not politicians, but if, through football, we are able to spread the message of hope, goodwill and determination, it would be an example for African leaders to follow."