Chaos overshadows Zimbabwe trip
By Steve Vickers
BBC News, Harare
Last updated on .From the section Football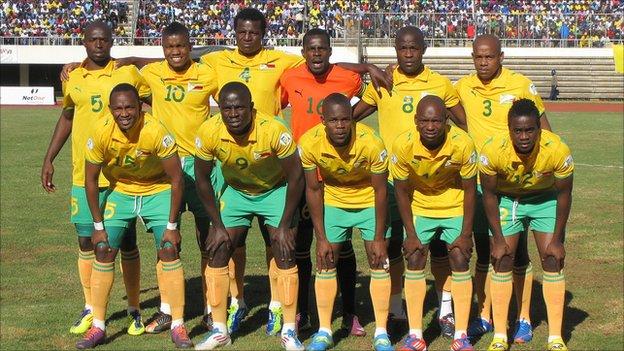 Zimbabwe left for their 2014 World Cup qualifier in Mozambique on Friday after a week full of chaos.
The team spent several hours at Harare International airport on Thursday waiting for tickets that never came.
The travel agent was not willing to give a credit facility to the Zimbabwe Football Association (Zifa).
The previous day the players were locked out of their hotel for two hours until a government guarantee was secured to cover a debt owed by Zifa.
Earlier on the same day they missed a training session as they were denied access to the national stadium, an incident that Zifa chief executive Jonathan Mashingaidze blamed on a "third force".
The Warriors were told by security staff that the ground was not available for training as work was being carried out on the turf.
"We believe that some people are being sponsored to derail the coaching team, people who will celebrate defeat for the team," said Mashingaidze.
"We also had fans jeering and throwing bottles at coach Rahman Gumbo on Sunday, and we suspect that there are some people who want to cause problems for us."
The Warriors lost 1-0 at home to Guinea on Sunday in their opening game in Group G.
They need a positive result against Mozambique to put their campaign back on track in a group that also includes Egypt.
But issues at administrative level are making things difficult for the team.
Zifa escaped the auctioning off of some of its office furniture and equipment this week after settling a long-standing debt with an advertising company.
"We inherited a lot of problems from the previous Zifa executive," Mashingaidze told BBC Sport.
"We've gone through a lot of challenges, and we believe that things can happen for us if we can gain the confidence of the corporate world and get more sponsorship deals.
Zimbabwean football has been rocked by an ongoing inquiry into allegations of match-fixing, and Zifa has been beleaguered by financial difficulties for many years.
The Warriors have never reached the finals of the World Cup.