Paulo Sergio says Hearts contract offer was 'unacceptable'
Last updated on .From the section Football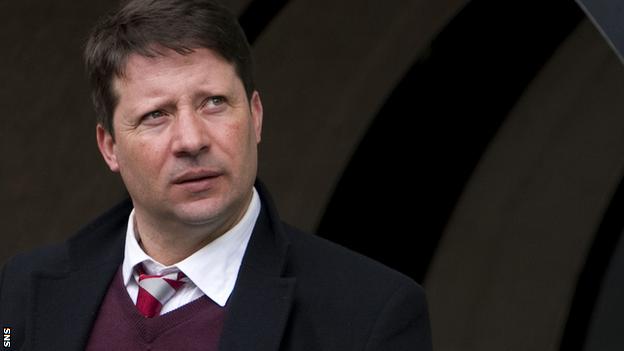 Departing Hearts manager Paulo Sergio has told BBC Scotland he left the club because the contract on offer was lower than last season's.
Sergio also said he was not guaranteed funds to invest in players, which did not reflect his acheivements.
"The club had an option in my contract and if they wanted me to stay, they could have activated it," said Sergio.
"The proposal was unacceptable. It was a huge cut from what they were paying to me last season."
Sergio, who led Hearts to Scottish Cup success in May, left the club by mutual consent on Thursday. He said his decision to leave was not solely about wages, but because he was not given resources promised to him.
First-team coach Gary Locke will remain at the Edinburgh club, but Sergio is now considering his options.
"I can say I'm sad," said Sergio. "We are sad - [assistant] Alberto Cabral and me - we feel our history with Hearts shouldn't end like that, but we have to move on.
"It's not just about the wage, but it's an important part of my life. I'm a professional and I have to find good things for my future.
"We were losing players that I would like to keep with no prospect of making new signings. So, I had to turn down their proposal.
"When I first arrived, it was promised to me that I could sign three or four players, then in January we lost four or five and I realised during the season that things were different from what we thought.
"But we fought with the weapons we had, and the conditions we had and, at the end of the season, it was great because of all that."
When asked about his future beyond Hearts, the Portuguese insisted he had not been actively seeking other positions while at the Tynecastle club, but was confident his success in Edinburgh would garner attention.
"I have not been in the market because I've been linked with Hearts," added Sergio.
"There may be some opportunities for me, and there are a few teams looking for managers.
"I'm going to wait and see if someone wants me to give the chance to prove myself.
"It's life, I'm not stressed. At first there was sadness but now I am very positive. I'm looking in front for a solution to my future.
"When you get fired because you don't get results, you get worried, but because of what we did at Hearts, I'm quite sure that something will appear."