Scottish Football Association investigating clubs' finances
By Martin Conaghan & Jim Spence
BBC Scotland
Last updated on .From the section Football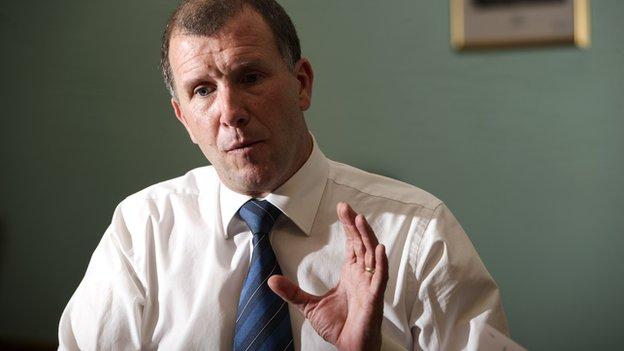 The Scottish Football Association is investigating its member clubs' finances, BBC Scotland can confirm.
In a letter dated 9 March, chief executive Stewart Regan requested all member clubs to send a self-declaration regarding their financial records.
He asked clubs to declare written agreements with players not lodged in the previous 10 years, by 6 April 2012.
The responses are being examined by the SFA's legal team and any issues will be referred to the compliance officer.
BBC Scotland has seen a letter dated 9 March 2012 from Mr Regan with the subject "Article 12 - Financial Records", which reminds clubs of their obligations pursuant to Article 12 (Financial Records) and 86.1 of the SFA's Articles of Association (Communications and Inquiries).
It draws attention to clubs that there could be a number of examples of non-compliance with the obligations of Article 12.3, which specifically requires all payments made to players in relation to their football activities to be declared to the SFA.
Rangers are currently under investigation by the Scottish Premier League over possible 'dual contracts', and the club - currently in administration over unpaid tax debts - delivered documentation to Hampden last week relating to the inquiry, some three months after they were requested.
The club is also awaiting the outcome of a First Tier Tax Tribunal over the use of Employee Benefit Trusts, totalling almost £48m given to players, coaches and staff during the period 2001-2010.
BBC Scotland has seen evidence, which was submitted to a court, suggesting that 53 Rangers players and staff had side-letters giving undertakings to fund their sub-trusts with cash, which if proven, would be in breach of the SFA's rules.
The letter sent by Regan requests all clubs to return a declaration from each chairman that they have complied "without qualification" with the terms of Article 12.3 in the last 10 years.
It also sets a deadline of no later than Friday 6 April 2012, to notify the SFA of "any written agreement(s) falling within the scope of Article 12.3 which has/have not previously been lodged with the Scottish FA in the previous 10 years in respect of any current or former players".
The SFA told BBC Scotland that it was not in a position to comment on the outcome of its request to member clubs, but confirmed that if any issues arise from the self-declarations, it would do so via the compliance officer references.