Fleetwood ambition convinced Johnson to reject Huddersfield
Last updated on .From the section Football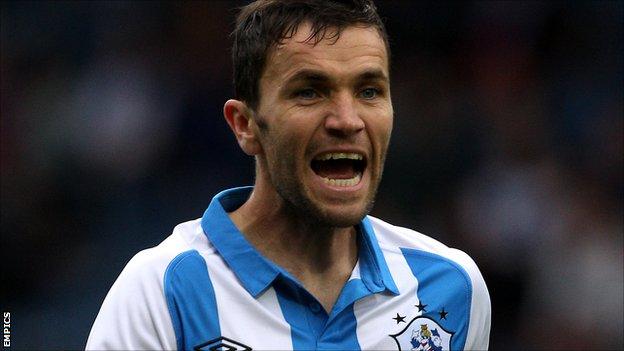 Damien Johnson says the ambition of Fleetwood Town convinced him to join the Football League newcomers and reject an offer from Huddersfield Town.
But, after being released by Plymouth Argyle, he chose a move to Fleetwood.
"They had a great season and they're not happy just being in League Two," Johnson told BBC Radio Lancashire.
"I sat down with the manager, Micky Mellon, and the chairman, Andy Pilley, and they convinced me that they wanted to have a go next season.
"They were very enthusiastic and very positive about next season and convinced me that this was the right place for me."
Johnson said Huddersfield's epic shoot-out win at Wembley in May, during which the Northern Ireland international missed his penalty kick, was the perfect way to end his time at the Galpharm Stadium.
"I spent two good years at Huddersfield," said the former Blackburn Rovers and Birmingham City man. "It's a good club and it finished off well.
"It was a good day out at Wembley and it all ended well. I just felt that two years there was enough and I started looking at other opportunities.
"It's all geared up here to have a real go at League Two. I don't think they should be phased by it.
"I'm sure that the guys that won the Conference convincingly will step up to League Two level."