Rangers: Dave King predicts short stay for Charles Green

By Alasdair Lamont
BBC Scotland
Last updated on .From the section Football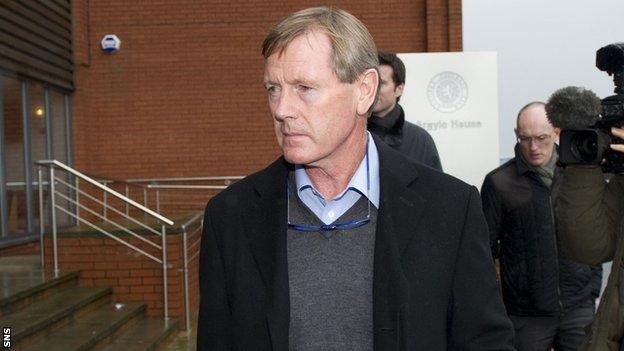 Rangers director Dave King wants Charles Green's bid to buy the club to fail, unless he demonstrates an ability to provide long-term funding.
In an in-depth interview with BBC Scotland, King predicted Green "would not last a season" at Ibrox.
However, Green said: "We are buying this club on Thursday whether Mr King likes it or not."
And Rangers' administrator Duff & Phelps are now making moves to terminate King's directorship.
Duff & Phelps and Green had already dismissed misgivings expressed by King on Thursday, questioning his motives.
Green also pointed out that, even if his company voluntary arrangement proposal fails, the terms of his agreement mean he would acquire the club as a 'newco'.
King, who says the Blue Knights group is the only viable bidder for Rangers, believes that, either way, liquidation remains the likely outcome.
"Whether the CVA goes through or doesn't go through, it may delay the inevitable," said King.
"I think I was public in saying that [current majority shareholder] Craig Whyte wouldn't see the season out and I would predict Charles Green wouldn't see a season out either."
The South Africa-based Scot previously called for fans not to buy season tickets and to join his opposition to the CVA.
And he does not believe Green's acquisition of the club is a fait accompli.
He said: "All you need is the fans to say 'we've seen this before, we want to support the club, we want to buy season tickets but we're insisting the season-ticket money is put into escrow with a major legal firm and it won't be touched until the beginning of the season so we know it's there'.
"I think you'll then see that Charles Green will run a mile because he doesn't have the money to run the club and he's relying on the season ticket money to fund the acquisition."
Green said that claim was untrue, adding that season ticket sales will not be launched until Saturday and that Duff & Phelps are already in receipt of the cash required for the purchase.
"Any money that comes in from season tickets will go into a secure account that I don't have access to," he explained.
Green's statement on Thursday noted that King himself was not in a position to bid for the club himself, but King told BBC Scotland his battle with the South African taxman, worth hundreds of millions of pounds, does not preclude him from being involved in a bid.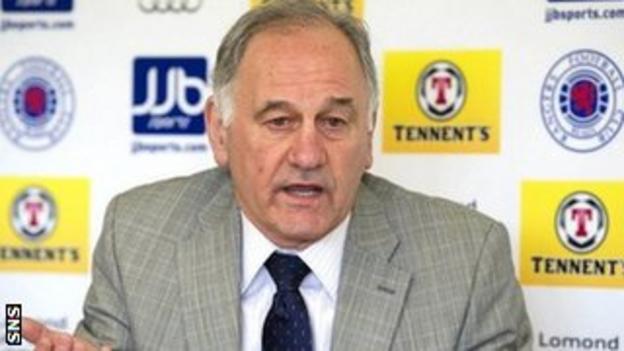 He is adamant Green should reveal at least some of the details of his plans to allow fans to judge them.
"If there isn't any demonstrated capability [of future funding by Green] I think it should fail, and fail quickly," he added.
"Then at least Duff & Phelps are in a position to negotiate with the only real answer at this point, which is the Blue Knights consortium [led by Paul Murray and Brian Kennedy] and accept they might not get as much up front, in terms of what has been promised by Green.
"I have a sense from discussions I've had that there are a number of people who would get involved but only if the club can be acquired in a sensible manner by like-minded people and will be properly funded going forward.
"I respect that Duff & Phelps' job is not really to worry about the future of the club. They've just got to say 'we've got do the best for creditors and if we get another £500,000 from this transaction but they haven't got the money going forward, it's our obligation to take that'.
"My concern with the Charles Green transaction is just the complete lack of transparency. If Charles Green had said 'I'm going to put £8.5m into the club and I've got these investors available with credibility who've also agreed to put in the £30-35m the club needs over the next three years', I certainly would have supported it.
"It's not difficult to put together a deal to acquire the club under existing circumstances, but the question is, 'how can you fund it going forward?' If Mr Green does have funding, he's being very shy about revealing who they [his backers] are.
"My understanding is that he doesn't have funding and all we're into is the same situation we had with Craig Whyte last year where the funding will come out of the season ticket sales, and that will run dry round about August or September and you just have a [situation like] Portsmouth. We'll be back in the same situation a year down the road."