Pompey Supporters' Trust close to tabling rival Chainrai bid
Last updated on .From the section Football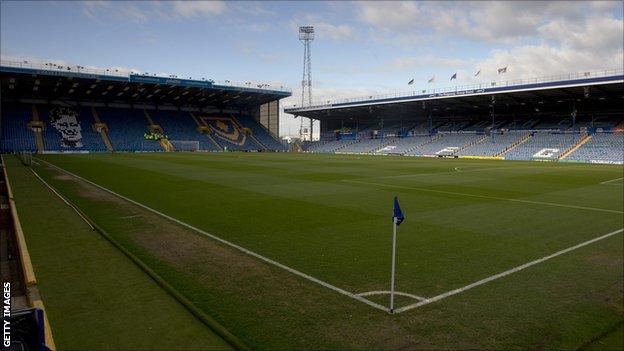 The Pompey Supporters' Trust (PST) is confident of tabling a rival offer for Portsmouth following ex-owner Balram Chainrai's bid for the League One side.
Chainrai's firm Portpin unveiled plans to pay creditors 2p in the pound as part of a Company Voluntary Agreement.
The club's administrator Trevor Birch urged creditors to back the deal.
But a statement from PST said: "We're confident this counter-offer will deliver a better return to creditors than the offer made by Portpin."
Creditors will have a chance to vote on Chainrai's proposals on 25 June.
Birch said: "We have written to all of the club's creditors to inform them of the CVA proposals.
"We believe these proposals are likely to give the best possible deal for creditors and provide the most realistic opportunity for protecting the club's financial position going forward and avoid liquidation."
However the PST, who launched a share scheme in March, says it intends to meet Birch next week with a view to presenting a rival bid for the Fratton Park outfit.
Their statement continued: "It is by no means certain that this offer will be accepted by the creditors.
"Early next week Antony Fanshawe of Begbies Traynor, acting on behalf of PST, will have formal discussions with Trevor Birch with a view to presenting a bid within seven days."
Hong Kong-based businessman Chainrai, who is owed around £19m by the South Coast side, offered to buy the club back through his company Portpin last month.
Birch added: "There has been a considerable amount of interest in the club over the past few months but nobody has been able to prove their ability and willingness to complete on a purchase other than Portpin."
Should the CVA be accepted, Chainrai - who has been owner of the club on two previous occasions - could be back in charge before the start of next season.
Portsmouth, who were relegated from the Championship in 2011-12, entered administration in February and were deducted 10 points.
Chainrai said: "If approved, the proposal will ensure the club's survival and give the club an opportunity to steady itself and get back on its feet after a troubled few years.
"I would urge all creditors entitled to vote on the CVA to follow the recommendation of the club's administrators and vote in favour of the CVA, so as to help save the club and get it back to the position that it should be in."