Euro 2012: Ireland have no fear of Italy and Croatia, says Kilbane

By Kevin Kilbane
110 caps for Republic of Ireland since 1997
Last updated on .From the section Euro 2012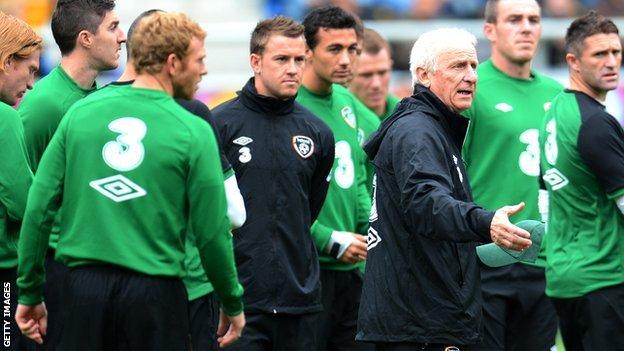 Sunday's opening game against Croatia will be key in deciding whether the Republic of Ireland get out of their group at Euro 2012.
We do not score many goals, so the only way we are going to win it is by nicking a 1-0 or 2-1 result but, if we do, it sets us up perfectly going into the games against Spain and then Italy.
All three games in Group C will be very difficult but I know the players do not fear the Croatians, or Italy.
We beat the Italians in a friendly last year, but we also played them off the park twice when we drew with them in the qualifiers for the 2010 World Cup.
They were afraid of us during that campaign and that was down to Republic manager Giovanni Trapattoni and his legendary status.
It is Trapattoni's approach and methods that have got us to Poland and Ukraine and they will hopefully get us to the quarter-finals too.
I genuinely loved my time playing under Trapattoni and, basically, he made us very hard to beat.
He lifted our spirits right from the time he took over and made the players believe they could qualify for major tournaments after failing for a long time.
I wasn't in his squad for his first game, a friendly against Serbia in May 2008, but I came in to play Norway in August of that year.
Trapattoni was very quiet with the players at first but, in the two or three days before the actual match, he would get us working constantly on our shape.
He was methodical in getting our back four and our midfield organised and he got us looking at each other in terms of where we all were in relation to our team-mates on the pitch, and the distance between us.
He also emphasised to us straight away the importance of set plays and, that if the score is 0-0 and the game is tight, a set-play can win it for you.
Whatever happened in games, he always remained calm - I never saw him raise his voice at half-time and afterwards he was never too emotional one way or another, whether it was a good or bad result.
That was good for the players because he never let us get too carried away, or too down in the dumps.
I know his tactics and team selection have not always been too popular with the media and fans but, for the players, results tend to overshadow everything else. And his results have been very good.
There have been incidents throughout his time in charge when people were looking for something from outside his squad to give us a bit more creativity.
James McClean has been called up now but, when I was playing, we had the Stephen Ireland issue, then Andy Reid, where people wanted to see them in the squad and playing.
But, when I was in the squad, we never felt it would make much difference. Trapattoni set us up in a way where he had players to fill the positions and to do a job for the team.
His emphasis is on the team, not on individual players who might do something out of the ordinary on the pitch.
As his players, he wanted us to do a really good job for the team, and to know our jobs - and everybody else's - when we were out on the pitch.
The 0-0 draw in Russia that helped us reach Euro 2012 is probably the best example of showing that he achieved that.
Richard Dunne's performance in that game has been described as being the best by any centre-half in Irish history, and it really was that good. Shay Given was outstanding in goal as well, but the team in general also defended so well.
After playing in the first six qualifiers, I wasn't involved in that game, but I know from talking to the players afterwards that they realised then they could go on and reach the finals, which had not been the case before.
Can they carry that belief on into the finals themselves? Definitely.
The team is unbeaten in 14 games now, which is magnificent at any level but even more so in international football when you think about the calibre of players we have come up against in that time.
So much credit has to go to the players but, ultimately, it is the work being done behind the scenes that is getting the results.
Trapattoni will be ready for Croatia, Spain and Italy too. All three of those sides are technically gifted and we might have to concede a lot of possession in all three games.
So we will need to keep working hard as a team to get out of Group C but, hand on heart, I think we can do it.
The supporters will play a key role too, of course. More than 20,000 Irish fans have travelled out to Poland and it will be like a home game when we play Croatia.
I am looking forward to getting out to Poznan to see what the atmosphere is like for myself, and hopefully we can make the sort of start to the tournament we are looking for.