Olympics Football: Wales' Neil Taylor reveals Team GB call-up
Last updated on .From the section Football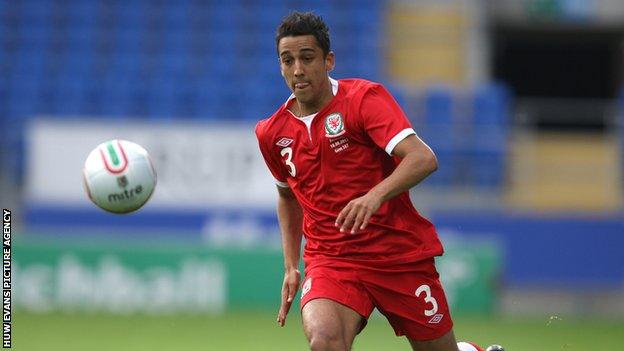 Neil Taylor has revealed he has made the 35-man GB football squad for the London 2012 Olympics.
The Wales defender will be joined by countrymen Gareth Bale of Tottenham Hotspur, Craig Bellamy of Liverpool and Swansea City team-mate Joe Allen.
Ryan Giggs and Aaron Ramsey have also been tipped to be selected, while David Beckham is expected to feature as one of the three over-age players allowed.
"It will be a great thing to do, if you make the final cut," said Taylor.
Team GB were obliged to submit their provisional squad to Fifa by 8 June.
But the Football Association, which is responsible for the team, says it may decide not to announce the list of names.
Taylor, though, has confirmed he has made Stuart Pearce's initial GB squad.
"I am delighted to have made the cut and it's a great opportunity and we just have to wait for the final squad to see who he takes," said the 23-year-old.
"Technically, you are going to be an Olympian and that is something a lot of athletes work towards all their lives."
The final squad will be trimmed to 18, with four named reserves, and is expected to be announced on 6 July.
Striker Bellamy has already been widely quoted as saying he has been selected, while Beckham's name has constantly been mentioned for one of three places allocated to players over 23 years of age.
Giggs is also expected to fall into that category, and the former Wales captain has been given the blessing of Manchester United to play in the 16-team tournament.
GB are in the same group A as Senegal, Uruguay and UAE, but Taylor is confident the hosts will make a good account of themselves.
"I think it will be a strong team," said Taylor.
"We have a country full of good young players but it is the Olympics and you expect the teams to be good."
The Football Association of Wales, along with the Scottish and Northern Irish associations, oppose the creation of Team GB fearing it could threaten their independence.
Although the FAW opposes Welsh internationals featuring at the Olympics it has said it will not stop Welsh players from taking part.
Captain Ramsey, Bale and Allen have already expressed their wish to take part and all three are expected to accept their invitations. Taylor admits the players have been put in a "tough" position.
"I think Fifa have put players and coaches in a bad position in Britain," said Taylor.
"Because the countries don't want it but the individual players want to play in the Olympics. It is a tough one."