Ruud Gullit says racially-abused players should walk off the pitch
Last updated on .From the section Euro 2012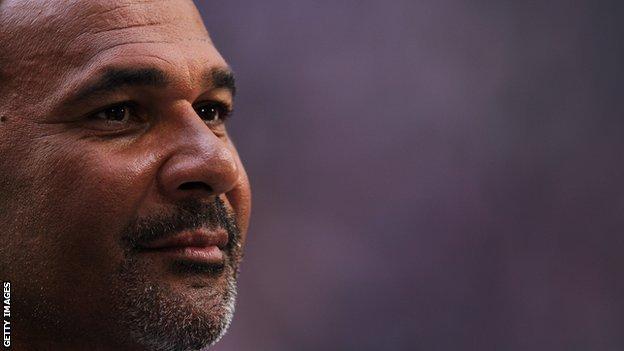 Ruud Gullit says Uefa should not punish players who leave the pitch in response to racist abuse at Euro 2012.
The former Netherlands captain accepts that the match officials should deal with any racist incidents that occur during the tournament.
But he says those affected should be allowed to make a personal stand on the issue if the officials fail to act.
"Players shouldn't just keep quiet and play on like in my day," he told the Daily Mail.
Before the tournament, Uefa president Michel Platini said any players who unilaterally walk off the pitch at Euro 2012 due to racial abuse would be booked.
Italy forward Mario Balotelli said he would leave the field if he heard racist abuse coming from the stands, but Platini insisted that the match officials alone should be given the power to deal with the situation.
"It's a yellow card. It's not a player - Mr Balotelli - who's in charge of refereeing," he said.
A recent BBC Panorama programme highlighted the problems of racism and anti-semitism in host nations Poland and Ukraine and the Dutch team were subjected to monkey noises at an open training session in Krakow on Wednesday.
"If a player is racially insulted, he should have the right to leave the field," Gullit said.
"I would like to think we can trust referees to take everyone off but, if the officials are not supporting the players correctly, then the individual should act. The message this would send out: 'we will not tolerate this abuse'."
The Euro 1988-winning captain said that he felt unable to openly protest against racism during his 19-year playing career. Gullit's club career included spells in Netherlands, Italy and England before his retirement in 1998.
"When I played, I received racial abuse but I was just one of a few black players and we weren't backed up by the authorities," he said.
"I used to ignore the abuse and felt powerless to change attitudes. My only weapon was my performances on the pitch.
"We are beyond that now though. We just have to hope that racism doesn't haunt this tournament but that, if it does, the response is strong. The players need the support of Uefa and the football authorities need the support of the police."