Rangers hold talks with Gennaro Gattuso's agent
Last updated on .From the section Football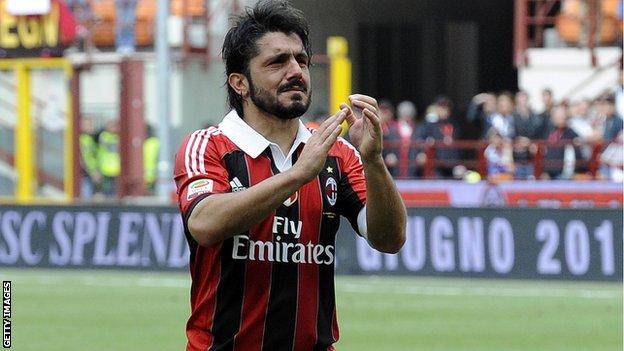 Gennaro Gattuso has explored the possibility of a return to Rangers.
Charles Green, who is leading the consortium in place to buy the stricken Ibrox club, spoke to the 34-year-old Italy midfielder's representative.
"To me, it's a massive positive he wants to come," said Green. "His agent came over and we explained the difficulties surrounding the club."
Green is hoping that Rangers will be in a position to sign players once they exit administration.
A year-long transfer ban was imposed on the club by the Scottish FA but the governing body is reconsidering the penalty after Rangers took civil court action.
Green says he has held budget talks with manager Ally McCoist, and that Gattuso - who played for the Scottish Premier League giants between 1997 and 1998 - could be an option.
"Gattuso himself came out publicly and said he would love to join Rangers and, after the illustrious career he has had in Milan, that's great," Green told the club's website.
"It's an endorsement that the world's top players would still like to come and play for this club.
"The SPL can't register any players because we are in administration and the SFA and the club have been in a very public dispute for some time.
"However, the manager has identified a number of people from a playing point of view he would be interested in.
"The manager actually played with Gattuso years ago when he was here at the club in the late 1990s.
"From my point of view as CEO, we've sat with Ally and arranged a budget with him and should we be allowed to sign players, he will be able to do so."
Gattuso, who has played at three World Cups for Italy, is a free agent after ending his 12-year spell at AC Milan.