Euro 2012: Giovanni Trapattoni hopes for change of fortune
Last updated on .From the section Euro 2012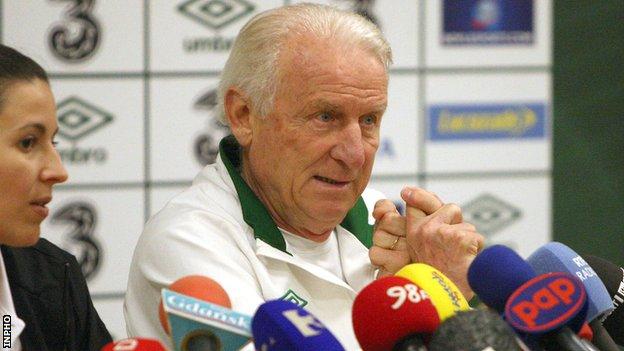 Giovanni Trapattoni believes he is due some luck as he leads the Republic of Ireland into Euro 2012.
The 73-year-old Italian insists that he has tasted more than his fair share of misfortune in international football.
Trapattoni recalls Thierry Henry's handball in the 2009 World Cup qualifier in Paris and also his Euro 2004 finals experience with Italy.
On that occasion Denmark and Sweden drew 2-2 which meant they both progressed at Italy's expense.
The Republic manager said: "I go back to the match at the Euros, Sweden against Denmark and after that, France and Ireland.
"[Then France manager Raymond] Domenech said to me, 'Giovanni, you know football...', and I said to Domenech, 'Yes, I know football'.
"Sweden against Denmark, I remember the game. Do you know what [then Uefa president Lennart] Johansson said? 'If this game finishes in a draw, we will open an investigation'.
"Do you know if he made the investigation? I'm still waiting for the investigation."
Trapattoni's conspiracy theory, which was strenuously denied by the Scandinavian neighbours at the time, carried little weight with Uefa, although both incidents have left him feeling his fortunes must change at some point.
His current charges will look to open their Euro 2012 account with victory over Croatia in Poznan on Sunday after three weeks of meticulous preparation.
But rather than excitement, the Italian has revealed he will approach their opening Group C fixture with a degree of tension.
He said: "I am not particularly excited, I'm a little tense. I want to keep a level of tension.
"If the manager doesn't keep the tension, the players can lose intensity. The manager needs to keep a positive tension."
Thousands of Irish fans have been making their way to Poland this week for the nation's first appearance at the finals of a major tournament in a decade.
After four years at the helm, Trapattoni is well aware of the lengths to which they go to support their team, and he has challenged his players to re-pay them in fitting style.
"I repeat always, you must be proud about our country, our people, because they make a very big sacrifice - the money, the travel, the trip. The players know this.
"All players before the training, I repeated this to them. Our country expects, our supporters expect."