Euro 2012: Steven Gerrard ready to take centre stage for England
Last updated on .From the section Euro 2012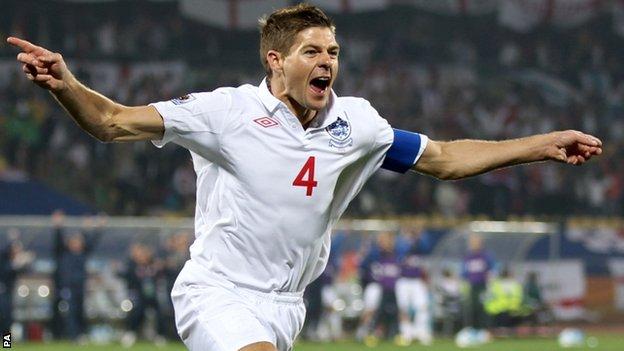 If Euro 2012 represents a fresh start for England, it also marks a new beginning for Steven Gerrard.
Embattled, written off, desperate for a renewed sense of purpose and direction, Roy Hodgson's England could be likened to Liverpool when they were 3-0 down after 45 minutes of the 2005 Champions League final in Istanbul.
On that occasion, as on this, Gerrard wore the armband. England awaits the day when the Liverpool captain replicates for his country the match-winning pyrotechnics that have become his hallmark for his club.
And yet, having been brought in from his left-flank exile by Hodgson and with a handful of key senior players absent, Gerrard has never been more central, in both senses, to England's plans.
"It isn't fair to say Steven hasn't had a great England career - it's not his fault," former England and Liverpool winger John Barnes told BBC Sport.
"He has been England's most consistent player for the past four years. In the 2010 World Cup he was England's best player and every time he plays for England he is as effective as anyone in the team.
"He might not have been as eye-catching for country as he has been for club but that is because of the way he has been asked to play. England haven't got the best out of him because his natural attacking instincts have too often been inhibited by successive managers not playing him in his best position."
If Gerrard was the best of a bad lot at the World Cup in South Africa, he must find his majestic, marauding best if he is to lift England above the ordinary in Ukraine and Poland. The player knows this summer is likely to define the way he is remembered on the international stage.
"Steven has never been more important to England and, while no-one is saying they are the best team in the world, they will be organised, hard to beat and they will surprise a few," Barnes added.
"He can show what he has done for Liverpool but the team needs to be organised in such a way to free him up. I am not sure that is likely to happen this summer."
The sense that Gerrard has never quite felt at home with England dates back to the day as a 14-year-old when he was rejected by the FA National School at Lilleshall. "I can't carry on. That's me finished," he told his father at the time.
And yet, fewer than six years later on 31 May 2000, he was running out at Wembley alongside Alan Shearer, Tony Adams and Robbie Fowler after being handed his full England debut by Kevin Keegan.
That first cap came against Ukraine, a day after Gerrard's 20th birthday when mischievous team-mates put all his belongings in the bath at the team hotel and turned on the taps.
At the age of 32, time is no longer on Gerrard's side but the England captain is nonetheless desperate to avoid the symmetry that might see his international career end against the same opponents it began against.
The nagging sense that Gerrard has unfinished business remains at the forefront of his mind. "I'm not going to make excuses for some of my poor performances in an England shirt," Gerrard has said of himself.
"Every time I've been picked, I've had the chance to go out and perform. It's my fault."
Gerrard desperately wants to play well for England, but once again he may have to do it in spite of his role within the squad, according to Barnes.
"With the injuries and withdrawals, Steven is likely to be more restricted and withdrawn," he added.
"There is nothing wrong with that because Steven can play that position better than anyone else in the squad - but it will mean he is unlikely to have the freedom he wants."
Gerrard has 92 caps and only Ashley Cole (94) Billy Wright (105), Sir Bobby Charlton (106), Bobby Moore (108), David Beckham (115) and Peter Shilton (125) have more.
Jamie Carragher, Gerrard's team-mate for club and formerly for country, says whatever happens the England captain should be viewed alongside his country's greatest midfielders.
"We all know he's in the upper echelons when it comes to Liverpool players, with most having him either first or second behind Kenny Dalglish," Carragher said.
"But when you look at a list of the greats to play in English football, I would say he is second only to Bobby Charlton in terms of the best midfielders there have ever been."
Gerrard's 95th cap is likely to come against Ukraine in Donetsk. The match will see a renewal of rivalries with Andriy Shevchenko - their meetings have invariably been epic, most notably in Istanbul. Gerrard has the striker's number seven AC Milan shirt from that meeting in the top room of his Merseyside home.
But there will be no room for sentiment when the teams meet on 19 June. Either team may need victory to ensure their place in the final stages of the competition.
Hodgson has given Gerrard the armband and with it the platform to lead England. The stage is set.