Rangers could sign new players before exiting administration

By Alasdair Lamont
BBC Scotland
Last updated on .From the section Football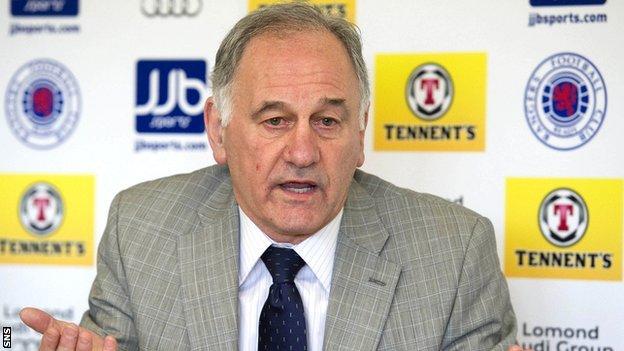 Rangers could attempt to sign new players before the club is officially out of administration.
Charles Green is aiming to have a Company Voluntary Arrangement approved on Thursday, after which there is a 28-day cooling-off period.
But SPL rules state that, with board approval, clubs in administration may replace players whose contracts expire.
"If you are correct, that is an avenue open to the club," Green told BBC Scotland on Sunday.
Asked about the wisdom of discussing buying players in the days leading up to a vote by creditors being offered just a few pence in pound Green told BBC Scotland: "No money is required for players. Most are free because of the financial crisis across Europe."
Asked about money for wages, he added: "That's why I've added £1.5m to the budget."
Further funds will be freed up as current players leave.
Rule 6.20 of the Scottish Premier League's regulations makes provision for signings being made in special circumstances by clubs who have suffered an insolvency event.
While there is no guarantee the SPL board would approve any signings, with several players' contracts expiring, that could allow Rangers to use the rule to bring replacements in.
If the CVA is approved, which is still the subject of dubiety, the cooling-off period would take Rangers to mid-July.
The club had been banned from signing players for 12 months by a Scottish Football Association-appointed Judicial Panel, a decision upheld by an Appellate Tribunal but subsequently set aside by the Court of Session.
The Appellate Tribunal must now decide what punishment to administer.
In the meantime, Green has confirmed he had told a supporters' meeting on Wednesday that he has a list of 19 target players drawn up, five of whom are involved at Euro 2012.
And he says he has added £1.5m to the budget Ally McCoist and the administrators Duff & Phelps had been working to for next season.
Green had also been examining the possibility, if Thursday's creditors' vote goes in favour of a CVA, of setting aside the 28-day cooling-off period, to allow a swifter exit from administration.
But lawyers have advised that even if the two main creditors - HMRC and Ticketus - had been willing to agree to that, it would not be possible because other creditors had to be allowed the right to raise objections in that period and only a judge can bring the period of administration to an end.
Of the money raised so far (£5.5m is lodged with the lawyers Taylor Wessing, as confirmed by Simon Shipperley of Duff and Phelps at the fans' meeting), £2m has come from Singaporean investors, £2m from another major investor, with the remainder split.
Having closed the initial round of funding with £10m raised, Green says he will entertain a second round of investment with a maximum of £4m per investor.
Green also referred to a £10m stadium-naming deal with "an airline investor or alternative".
"I've been speaking to a number of people, some of whom are connected to our investors, some not," he added.
"I've said all along, stadium-naming is an emotive issue, but whatever we do it would always be Ibrox Stadium."