Euro 2012: Spain's Cesc Fabregas blames pitch for Italy draw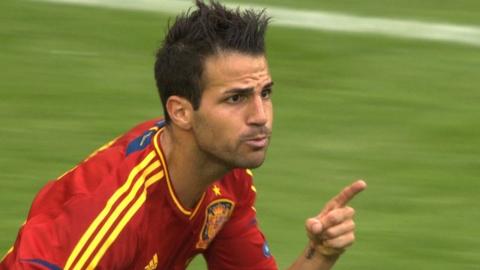 Cesc Fabregas blamed the state of the pitch in Gdansk for Spain's lack of fluency during their draw with Italy.
The Barcelona midfielder grabbed the equaliser for the defending champions, moments after Antonio Di Natale had put the Azzurri ahead after 61 minutes.
But Fabregas said: "It is lamentable that we have to play on a pitch like this. I don't want to complain but we deserve much more."
Polish FA president Grzegorz Lato dismissed the claims as "nonsense".
Spain had asked for the field of play to be watered heavily before kick-off, but their request was turned down.
The current holders might have won the match had Fernando Torres taken one of three late chances.
But Lato rejected Fabregas's suggestion that the surface had also been a factor in the result.
Lato said: "What nonsense. The grass was the perfect length. The thing is that often one waters the pitch for the game but you need agreement from the two teams.
"The Spanish wanted it to be watered, the Italians did not agree.
"They know that the pitch being slower - because on a watered pitch the ball slides a lot and will move a lot faster - is the better tactical option for Italy.
"If there isn't agreement (from both sides), it doesn't make any difference that at Barcelona and Real Madrid they water the pitch two hours before the game."
Fabregas, however, believes Spain responded well, adding: "After going behind it is not a bad result. We have shown character and played well. We are still dependent on ourselves.
"It has been a difficult match - the most difficult one we have in the group against a very strong rival."
Spain manager Vicente del Bosque admitted that while the result had not been the one they had wanted, he was satisfied with the performance.
"We have worked hard and put in a good effort. We are relatively satisfied with our work," he said.
Del Bosque had surprised many by not naming a recognised striker in his starting XI.
Torres was left out in favour of Fabregas, who played at the top of Spain's fluid formation.
"We wanted to have superiority in the midfield so that we could have possession and arrive higher up the pitch," the Spain manager said.
"David Silva, Cesc and Andres Iniesta arrived very well from the second line of attack and I think they did very well in a lot of moments. The plan didn't go badly, Cesc did very well in this position. When Fernando Torres came on, the match was much more open.
"We had more chances to score, but so did they and we can't forget that. Time will tell whether this is a good point or not."
Spain looked uncharacteristically slack in possession at times, particularly in the first half, but Del Bosque was quick to give credit to Italy's pressing game.
"We knew Italy were going to press us high and they wanted to take the initiative," he added.
"I had already warned that they are very dangerous and that has been the case."