Ex-Everton and England keeper Gordon West dies aged 69
Last updated on .From the section Football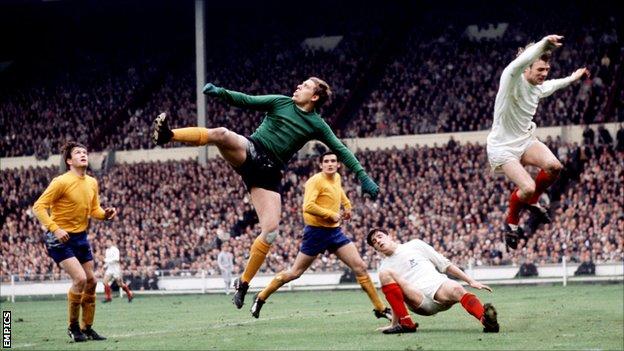 Gordon West, the former Everton and England goalkeeper, has died at the age of 69 after a long illness.
West spent 11 years at Goodison Park, making more than 400 appearances and winning two league titles in 1963 and 1970, as well as the FA Cup in 1966.
Everton paid £27,000 to sign West from Blackpool, then a British record transfer fee for a goalkeeper.
He won three caps for England and was part of the squad that came third at the 1968 European Championship.
However, he turned down the chance to go to the World Cup in Mexico two years later as he wanted to remain with his family.
Former Everton striker and manager Joe Royle believes West was one of the premier goalkeepers of his generation and was unfortunate not to have had more of an involvement at international level.
Royle told BBC Radio Merseyside: "He was a great man and a fantastic goalkeeper.
"He was a major player in three great Everton sides and you don't win things without top goalkeepers.
"He was just unlucky that he had to compete with Gordon Banks and others, because at the time England had the best goalkeepers in the world."
Ronnie Goodlass, who was an apprentice while West was at Goodison Park, added: "He won two league championships and an FA Cup medal, so it shows what a great player he was.
"As you were coming up through the ranks, you looked up to people like 'Westy'.
"He was always a character in the dressing room, he was great to be around and real fun. The Evertonians loved him."