Oxford United will spend wisely says chairman Kelvin Thomas
Last updated on .From the section Football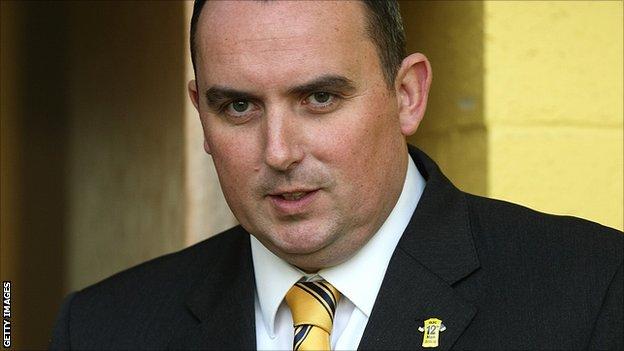 Oxford United chairman Kelvin Thomas says the club will build the squad sensibly and spend wisely this summer.
The U's have a large number of players under contract for next season and are planning to make only minor changes to the squad during the transfer window.
Thomas is aware that fans are excited by new recruits but feels they already have the foundations for success.
"We've got a good squad, people always talk about having a settled side and we have that," Thomas told BBC Oxford.
Thomas added: "On the flip side, we'll get criticised for not bringing enough players in but that's OK.
"We are comfortable with where we are and feel we have decent squad with the players that are contracted here."
The U's have already signed former Port Vale forward Sean Rigg on a two-year deal while former Gateshead striker Jon Shaw is also rumoured to be another target.
But Thomas says they will not be held to ransom in bringing new players in and believes they are an attractive proposition.
"We've talked to players like we always do and we've talked to agents and potential targets," he said.
"As time goes on and they may not get the contracts they want then things [player demands] will drop down. But we are still an attractive club and we are not going to panic about that."
The U's were heavily reliant on the loan system last season, but Thomas says they will use that side of the market less next term.
Thomas added that improving player fitness and a reliance on their own squad will be more of a priority next season.
"We've talked about the failings and where we went wrong last season and we feel that is an area where we can trust our own squad a bit more," he said.
"Keep them fitter and keen them on the pitch and playing football matches.
"We won't be delving into the loan market, we will be looking to use our own squad because we think it is a good squad."