Fans chief concerned for Rangers
Last updated on .From the section Football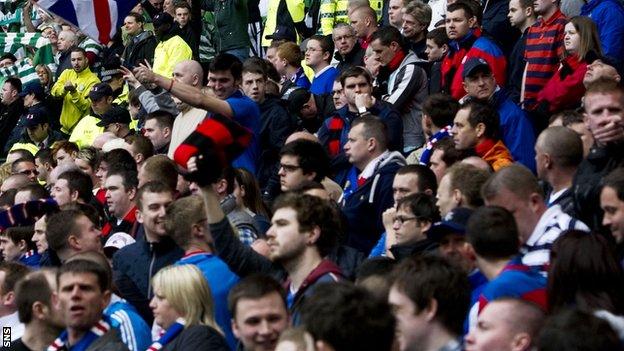 The general secretary of the Rangers Supporters Association John Macmillan hopes HMRC's CVA rejection does not spell the end for the Glasgow club.
Macmillan says the next few days are crucial, as Rangers are relying on the goodwill of other clubs to enable them to re-join the Scottish Premier League.
"There's very little time left," said Macmillan. "Because the fixture list is due out within the next week or so.
"It looks as if our fate is in the hands of the football authorities now."
Rangers FC is now facing liquidation after a creditors' deal was rejected by HMRC on Monday and will have to re-form as a new company if it is to continue football operations.
The remaining 11 SPL clubs will have to vote on whether to re-admit the "newco" to the league, and other issues remain unanswered about membership of the Scottish Football Association.
"A lot of work is still to be done and I just don't know know where it's going to end up," said Macmillan.
"But this is a real bodyblow without a question of a doubt.
"It's a very complex situation, but my understanding now is that we need to go into a newco, which will in turn mean that they have to now talk very urgently to the footballing authorities, the SPL, presumably the SFA.
"And, they may have to get the backing of other SPL clubs if they apply to stay in the SPL."
Several SPL club chairmen have commented on Rangers' situation in recent months, with Dundee United's Stephen Thompson suggesting that Rangers would find it difficult to get voted back in to the top flight.
Macmillan admits it will not be a straightforward choice for their SPL rivals.
"I think it's questionable," added Macmillan. "Because, to be fair to the chairmen of the SPL clubs, they're under a lot of pressure - or some of them are - from their own fans, not to allow Rangers in to the SPL if this comes to be.
"They have to weigh that up against their lack of finance they will have if Rangers aren't allowed in the SPL.
"It's not going to be an easy decision, but I think - and I must say this in all honesty, and not because I'm a Rangers supporter - but if Rangers are not allowed in there, it'll be a disaster for Scottish football in general financially."
Despite the dark days facing the club, Macmillan conceded that its downfall was self-inflicted, but indicated that "certain individuals" were responsible for the problems which led to admnistration.
Macmillan continued: "The bottom line is that this has been brought about by certain individuals. There's no point in naming names - it's been brought on by themselves and it cannot be denied.
"That's the unfortunate bit about it all. They have to pay for what they've done in the past, but whether it's to be as severe as it's going to be is open to question.
"The next few days will be crucial, depending on the decisions that happen. There's always a possibility that it's the end, but I hope it isn't."