Central African Republic coach Herve Loungoundji wants to shine
Last updated on .From the section Football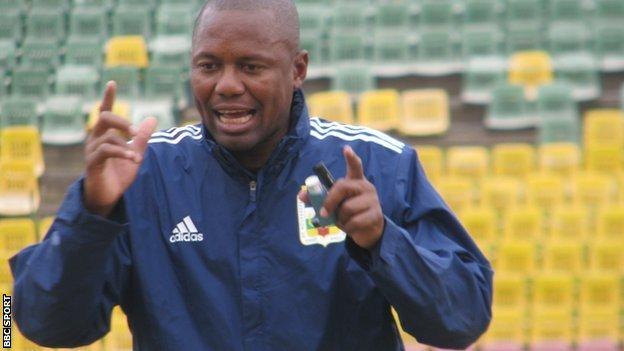 Central African Republic caretaker coach Herve Loungoundji says he is determined to see his side reach the 2014 World Cup in Brazil.
Loungoundji's team are currently second in Group A behind Ethiopia after two games.
The former international goalkeeper took the role after the recent departure of Frenchman Jules Accorsi.
He took charge of the side 10 days before CAR faced Botswana in their opening qualifying game.
CAR won Loungoundji's first match at the helm 2-0, but then lost by the same margin to Ethiopia in Addis Ababa last weekend.
"This is my second match but I have a lot of experience to handle the squad," said Loungoundji, who is also former captain of the national team.
"Even the matches we played in the 2012 Africa Nations Cup qualifiers against sides like Algeria and Morocco, I was involved.
"I have been coach with the national team for seven years, and even when Accorsi was in charge, he gave me enormous responsibilities with the side."
Accorsi, who had been in charge of the side for two years, quit after falling out with the Central African Republic Football Federation over unpaid salary.
Officials told BBC Sport they are still trying to settle the issue with the French coach, but Loungoundji said he is prepared to take on the tasks ahead even without his former boss.
"I don't feel any pressure at all," he said.
"The pressure in the job will always be there. It all depends on how you handle it."
The defeat by Ethiopia will, however, add pressure on the caretaker coach to make sure his side either qualify for the Africa Cup of Nations or reach the World Cup finals.
But Loungoundji is confident his side can still cause some surprises.
"There's no way this defeat is going to affect our World Cup campaign," he said.
"We are second in our group and there is a long way still to go.
"Nobody knows how the dust is going to settle in the group. Ethiopia are leading at the moment but I guarantee we'll get all three points in Bangui against them."