Cardiff manager Malky Mackay happy with added pressure
Last updated on .From the section Football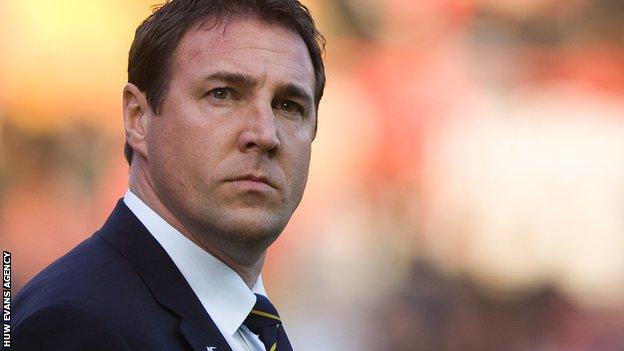 Manager Malky Mackay admits there will be increased pressure on Cardiff City next season following investment by the club's Malaysian owners.
But Mackay says he can cope with raised expectations ahead of his second season in charge at Cardiff City Stadium.
"There will be added pressure but that's part of life," said Mackay.
"There's going to be added expectations but it's why I came to the club.
"I came here to be ambitious, to drive our club forward. I'm ambitious as our fans are and I want to see success as well.
"I think the expectation level will rise because of last year's performances and probably the fact we have got a stable footing now as far as the players are concerned."
During Mackay's first season in charge, Cardiff lost to West Ham in the Championship play-off semi-final and were beaten by Liverpool in the Carling Cup final.
Peterborough goalkeeper Joe Lewis is so far the only player to have signed for Cardiff, but Mackay says he is busy working on adding to the squad ahead of the new season.
But the Scotsman, who missed out on striker Jay Rodriguez, added he would not be rushed into signing new players.
"Myself and my recruitment team are actively working on a list of players at the moment," said Mackay.
"We've got various targets and we're at various stages of those targets.
"It's not really a time of the year, this period, where there is too much business done.
"There's a lot of clubs that have kind of shut down at the moment in terms of people going on holiday and with the Euros [European Championships] going on.
"I'm sure that there will be business done at the latter end of the transfer window by a lot of clubs.
"Ideally I'd love to have all of my targets in for the start of pre-season training. That's an ideal world and it's never happened as yet at any football club I've been at."