Euro 2012: Steve Staunton on Republic of Ireland v Spain

By Steve Staunton
Former Republic of Ireland captain and manager
Last updated on .From the section Euro 2012
We have always liked making things difficult for ourselves down the years, but Sunday's defeat by Croatia means getting out of the group at Euro 2012 will be the ultimate test for the Republic of Ireland.
Lose against Spain in Gdansk on Thursday and we are going home. It is as simple as that.
A draw would keep our hopes alive going into the last match against Italy on 18 June, but we have to get at least four points from those two games and even that might not be enough.
Being realistic, it is near enough impossible for us to qualify for the quarter-finals, but I have played alongside or managed most of the players in the Irish squad and I know they will not have given up.
How should we approach the Spain game? Well, I've heard people say that manager Giovanni Trapattoni should be more adventurous this time.
But, if Trapattoni was trying to keep it tight against Croatia and we still conceded three goals, then we are going to be in big trouble if we open up against the world and European champions.
Seriously though, we have to try to stay in the game as long as possible against Spain.
If we go for it too early then they could cut us to shreds and we could be out of the game by half-time.
So I would expect Trapattoni to be as cagey as usual and that is the right approach because, if we can keep it at 0-0, then who knows what might happen in the last 15 or 20 minutes.
We probably won't see a lot of the ball whatever happens, but I would settle for Spain having 85% of possession if we could snatch a 1-0 win - and I'm sure a few Ireland fans would agree with me.
And I do have a glimmer of hope because I just don't think Spain are that good at the back.
In their draw with Italy, the Spanish centre-backs Sergio Ramos and Gerard Pique were making mistakes that you would not want to see from an Under-18s side, let alone from international defenders who play for Real Madrid and Barcelona.
I like the left-back Jordi Alba, but the rest of the Spanish back-line always seem to want to get forward and play the same stylish football as the rest of their team.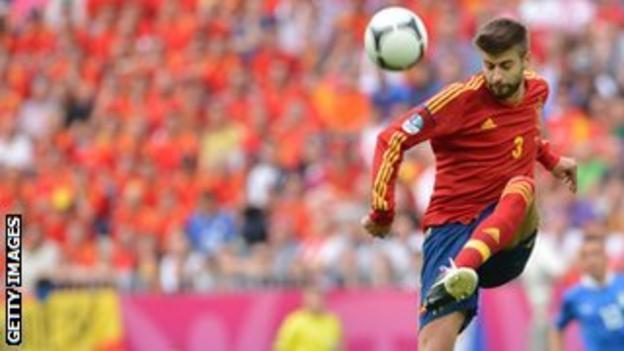 That's all well and good, but you have to remember to defend as well.
Italy showed on Sunday that it is possible to get at them because, when you have a team that wants to try to pass and get different people forward, their defenders are usually out of position when you win the ball back.
Are there any other reasons for Ireland to be positive? Yes.
We are used to being the underdogs and we have managed surprise results at major tournaments before. Getting results against the favourites is normally what we do best.
I was fortunate to have been part of that when I was playing during the most successful period in the history of Irish football.
I was in the team that beat Italy at the 1994 World Cup in the United States and also when we drew with Germany in Japan and South Korea in 2002, where we only lost to Spain on penalties. We were not afraid of anyone.
But the crucial thing to remember is that those results were down to us playing well.
I played more than 100 times for my country and could go through virtually every qualifying campaign and pick out a couple of games where we played exceptionally and got a crucial result.
And the problem against Croatia was that we didn't perform anywhere near the level we can.
In fact, it was totally unlike the way Ireland have been playing for the last few months - we made mistakes at the back and there was no spark and no energy to chase the game in the second half.
I know the players are capable of doing a lot better against Spain.
Even if we don't get the right result, I just want to see a proper performance from Ireland, one that does the team justice.