Antonio Cassano fined for Euro 2012 homosexual remark
Last updated on .From the section Euro 2012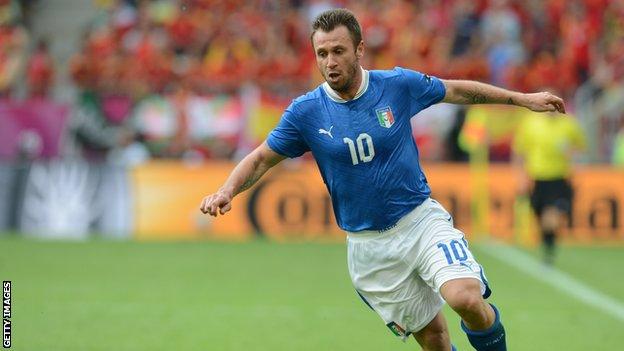 Italy striker Antonio Cassano has been fined by Uefa after comments made about homosexuals during Euro 2012.
The 29-year-old AC Milan forward said he hoped there were no homosexuals in the Italy squad for the tournament in Poland and Ukraine.
Although he later apologised for the comments, he has still been fined £11,679 (15,000 euros).
"Cassano has been fined for a discriminatory press statement," Uefa confirmed on its website.
"An appeal can be lodged against this decision within three days of the dispatch of the full written decision."
Cassano was asked during a news conference whether he thought there were any homosexuals in Cesare Prandelli's 23-man squad.
He responded: "The coach warned me that you would ask me this question. If I say what I think... I hope there are none."
But he subsequently released a statement insisting he had been misinterpreted.
"I sincerely regret that my statements have sparked controversy and protest from gay rights groups," Cassano said.
"Homophobia is a sentiment that is not mine. I did not want to offend anyone and I can not question the sexual freedom of other people.
"I only said that it is a problem that does not concern me and it is not for me to pass judgement on the choices of others, who are all respected."
The 30-year-old scored one goal in six games during Euro 2012, helping Italy to the final, where they lost to Spain.