Derby County unveil "demand-based" ticket price plan
Last updated on .From the section Football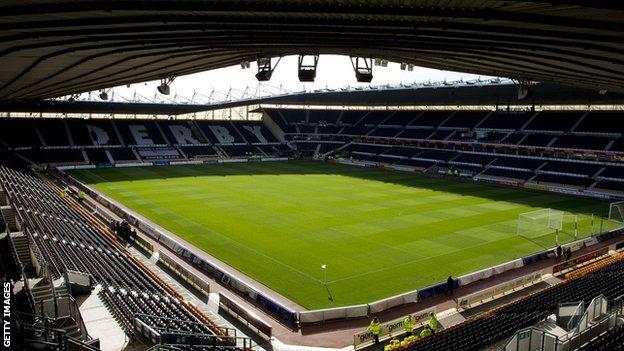 Derby County are introducing "demand-based" ticketing for the coming season with prices fluctuating according to the opposition, the team's form, kick-off times and even the weather.
Prices will still initially be graded according to the game's importance.
But the idea is that tickets will be cheapest when they go on sale and rise as demand rises nearer the game.
Derby say fans will get the "best value for money" and insist season-ticket holders will still get the best deal.
The new scheme, which will be implemented by pricing technology experts Digonex, is the first of its kind for an English football club, but has been used by clubs across the major sports in North America.
Each home match will be placed into one of four categories with tickets in each category starting at a different "base price".
The theory is that to see Derby play one of the most attractive games of the season against fierce rivals Nottingham Forest on the day of the game will cost more than it would to buy a ticket in advance to see the Rams play less appealing opposition.
But a number of other factors, including kick-off times and the team's form, will also determine the price.
Outgoing chief executive Tom Glick said the club are confident the scheme will "help identify the best price for tickets and provide fans with more price options, flexibility and the best value for their money.
He added: "We believe we will entice new fans to Pride Park as well as offering more options to existing supporters whilst re-engaging with those supporters who haven't attended matches as much as they would have wished in the last few years."
Operations director John Vicars told BBC Radio Derby: "It's a new way of selling tickets as far as football in the UK is concerned. Most people will be familiar with the concept when they are booking flights and hotel rooms. It's the same principal.
"It's about the laws of supply and demand. Tickets will go on on sale for the first half of the season at initial on-sale prices and those prices will fluctuate on a daily basis.
"If you want to buy, you buy it at the initial on-sale and the prices will rise through the weeks until kick off when you will pay more for that ticket.
"The message is 'buy early to secure the best possible deal'."
Vicars said the club were mindful of concerns voiced last season that last-minute cheap offers were unfair on those who had bought season tickets.
The Rams have written to season-ticket holders to explain how the partnership will work as well as how their season-ticket package is broken down.
"Season-ticket holders will always get the cheapest football through their season tickets," Vicars added.
"The pledge is that no one will ever buy a cheaper ticket in their part of the stadium, so season-ticket holders will always get the best possible deal.
Vicars also said that he was confident a lack of demand would not see prices plummet, therefore penalising fans who had bought tickets well in advance.
Rams fan Ross Lowe had serious misgivings about the scheme, fearing it would mean having to pay more for his ticket as he is not in a position to buy too far in advance.
"I'm a little bit befuddled by this initiative really," he told BBC Radio Derby.
"I'm not in a position to buy a half-season ticket at the moment because I can't commit and I don't know if I will be able to make all those Saturdays.
"Quite often I will just commit on the day, ring my mates and see if they want to go."