Ipswich Town return for Bryan Klug who holds 'no grudge'
Last updated on .From the section Football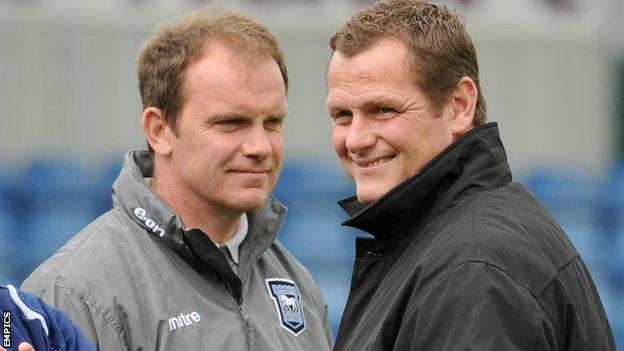 Bryan Klug has insisted he holds no grudges over his departure from Ipswich two years ago, after returning to take up the role of academy director.
But he told BBC Radio Suffolk he was not resentful: "No. Not at all.
"When you've been in football as long as I have, you're lucky if you stay at one club."
He added: "When managers change they have the right to bring in the staff that they feel are right for the club and that's what Roy did."
Klug has a long association with Ipswich, having started his playing career at the club and then spending 23 years on the staff from 1987.
In that time he held numerous roles, including assistant manager to Jim Magilton and key positions in the youth setup, overseeing the progress of Darren Bent, Darren Ambrose and Titus Bramble.
His first task as Sammy Morgan's replacement as the head of the Portman Road youth system will be to navigate the structure of the new Elite Player Performance Plan.
Town will apply for Category Two status in the shake-up of Football League academies and will need to prove they are up to the required standard.
"The system has a lot of pluses, but it's definitely geared to the benefit of the bigger clubs," said Klug.
"The task here is to mould our own identity here at Ipswich, which we've always had.
"It's about doing things in our own way while hitting the standard required for the audit. I think it's more about us having a identity.
"If we produce the quality the players will be given a chance here."
And Ipswich could benefit from Klug's connections at Tottenham, where he leaves a job as head of player development.
"I know all the players that are in the system there," he said.
"Without a shadow of a doubt there'd be a few players that, if they were available, I've got contacts that would be useful."