Jan Molby backs Michael Laudrup for Swansea City manager job
Last updated on .From the section Football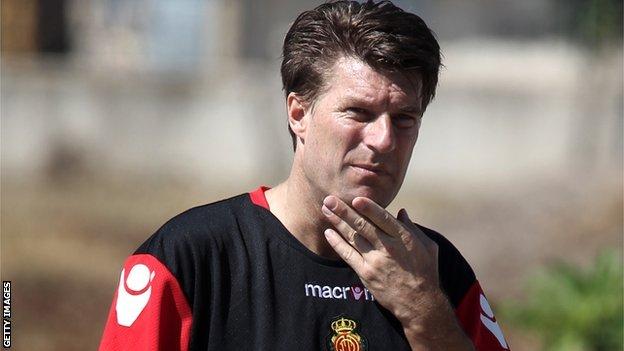 Ex-Swansea player-manager Jan Molby says that Danish compatriot Michael Laudrup taking over the Welsh club would be "a marriage made in heaven".
Molby believes that former Barcelona wing Laudrup is close to being confirmed in the Liberty Stadium role.
"Over the last couple of days the rumours have grown stronger and stronger," Molby told BBC Sport Wales.
"I'm at a hotel in the Ukraine with an awful lot of Danish journalists [covering Euro 2012] and they all seem pretty sure that Denmark is about to have their first manager in the Premier League."
Laudrup won five Spanish league titles with Barcelona and Real Madrid between 1991 and 1995, and has previously managed Brondby, Getafe, Spartak Moscow and Mallorca.
Former Liverpool midfielder Molby, who was in charge of Swansea between 1996-97, believes that Laudrup would find a home away from home at the Liberty Stadium.
"I think he'll do well... I know Michael was very impressed with the way things are done [in the Premier League], they way in which he is in control of footballing matters, selling of players, buying of players," Molby said.
"I know that's some of the problems he's had at previous clubs and of course he has a very specific way he wants to play.
"He was strongly influenced by Johan Cruyff when he was at Barcelona in the late 1980s, early 90s.
"That's how he wants to play his football that's how Swansea played last year under Brendan Rodgers, so if it happens I think it's a marriage made in heaven.
"They've gone down that route, they've put a squad together capable of playing exactly like they want to play.
"They're brave and it's worked well for them, they've proved they can do it in the Premier League.
"That's very important for Michael, he won't have to start from scratch with a group of players that maybe aren't comfortable having the ball, being in possession.
"This group of Swansea players are. He will maybe add one or two players he might know from Europe but of course there won't be great changes, because they don't need to.
"I think Michael is a bit like Brendan Rodgers, likes a settled squad, likes to work with the players, feel that he can improve the players.
"So I don't think he's one of those managers who is going to be knocking on the chairman's door every other day saying they need more players.
"In terms of backroom staff I'm not too sure. A few of the backroom staff have left with Brendan to go to Liverpool, so there will be opportunities to bring someone in.
"I'm sure he'll bring his trusted number two Erik Larsen with him, apart from that I'm not too sure."
Molby believes that people are yet to see the best of Laudrup the manager, but that Swansea would be a great next step for both the 47-year-old and the Premier League club.
"If you look at his CV, he did very well with Brondby with a young group of players, got them playing the right way," Molby added.
"Then you look at his next three jobs: Getafe I thought he did well but fell out with the owner, had a great run in the Europa League, almost knocked out the mighty Bayern Munich.
"Moscow, I think he just landed in a country where it was impossible with language difficulties, they just didn't allow him to do what he wants to.
"And from the moment he set foot in Mallorca they were just beset with financial problems that he never quite got over.
"This is the opportunity now, he has to make a mark as a manager."