Players' union demands Charles Green's plans for Rangers
Last updated on .From the section Football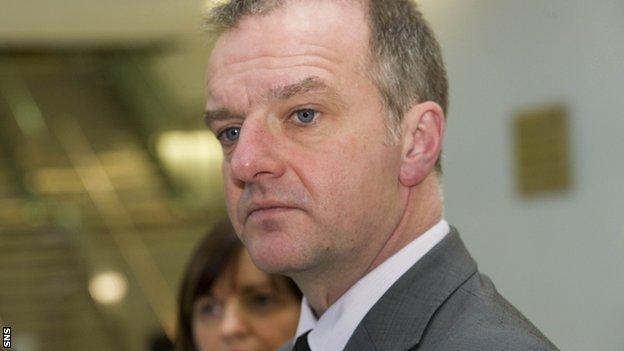 The footballers' union in Scotland wants prospective Rangers owner Charles Green to provide the club's players with information about his plans.
Green will then form a "newco" and he insists the players must move or they will be in breach of contract.
But PFA Scotland says the choice is the players' and they need more details from Green to inform their decision.
A statement from the trade union's chief executive Fraser Wishart said: "It may well be the case that all of the players wish to transfer across to the newco and if that is the case then PFA Scotland will ensure that their rights are protected.
"The players, however, are becoming increasingly unhappy at having to operate in an information vacuum whilst their futures are portrayed by others as being a fait accompli with no proper communication and consultation taking place."
Green, who will purchase Rangers' assets from the administrators for £5.5m and re-form under a new name, said on Tuesday that the squad was obliged to switch to the newco to avoid breaking the terms of their deals.
He maintains that the players will move to the newco under Transfer of Undertakings (Protection of Employment).
"Tupe is very clear and all employees will be transferred under the rules and regulations," said Green.
"We've explained to all the staff that contracts will be switched to the new company."
However, Wishart said: "Should the players wish to transfer across to the newco, Tupe ensures that they do so on their existing contractual terms.
"Equally, Tupe affords every employee the statutory right to object to the transfer.
"If a player wishes to object to being transferred, his contract of employment would immediately come to an end, leaving him with no contract, no dismissal and no right to compensation from either oldco or newco.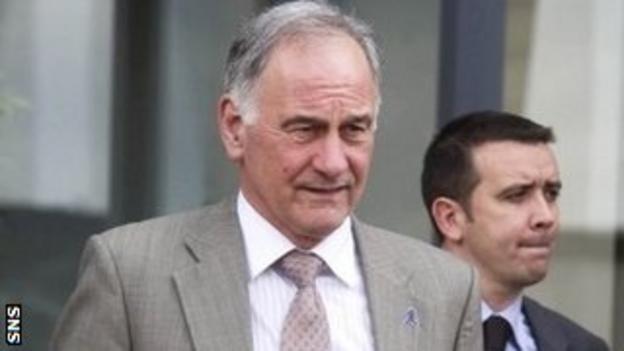 "Both the club and the player are then free from their contractual obligations."
Employment lawyer Mark Hamilton of Maclay Murray & Spens agrees with the trade union's interpretation.
He told BBC Scotland: "Liquidation acts as a termination of their contracts by itself and they would be able to say Rangers had breached their contract by going into liquidation and they would be free from their contract at that point.
"There is no automatic transfer in a liquidation sale."
PFA Scotland lists a number of factors that might have a bearing on a player's decision to stay at Ibrox or leave.
It points to concerns over which league the new club will play in, what sanctions will be applied, eligibility to play in the Scottish Cup and a possible registration embargo.
Those last two points will be decided by the appellate body of the Scottish Football Association's independent tribunal when it meets to discuss how to punish Rangers for brining the game into disrepute.
The tribunal's previous decision to ban Rangers from signing players aged 18 and over for a year was deemed to be outwith its powers when the club challenged the ruling at the Court of Session.
The players' union also commented on the question of its members' registration.
"We are unclear on what legal basis the football authorities would be entitled to withhold the transfer of registration of any player in this situation," said Wishart.
"The European Court of Justice ruling in the case of Bosman is authority for the view that professional footballers are workers like anyone else and are entitled to exercise their right to Freedom of Movement when out of contract."