Euro 2012: Netherlands were 'poor', says Bert van Marwijk
Last updated on .From the section Euro 2012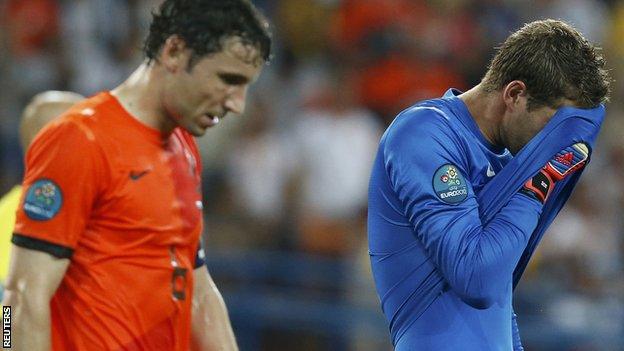 Netherlands coach Bert van Marwijk criticised his team's performance after their 2-1 defeat against Germany left them struggling to qualify for the Euro 2012 quarter-finals.
"We defended moderately and the co-operation between our midfielders and defence was poor," said van Marwijk.
"[But] we cannot imagine that it is over when we are at this level."
The Dutch need to beat Portugal by two goals, while hoping Germany defeat Denmark, to progress.
Van Marwijk's side spurned a host of chances in the first half, and were rocked by Mario Gomez's clinical double.
Robin van Persie offered hope of a comeback with a fantastic strike in the 73rd minute, but impressive Germany held on to leave their opponents bottom of Group B with no points.
Van Marwijk admitted the threat from his wingers was "too little" - partly a reference to Arjen Robben, who stomped off petulantly after being replaced by Dirt Kuyt in the 83rd minute.
But it was his side's wastefulness in front of goal which bothered him most.
"I thought we played very well in the first 20 minutes and had a few decent chances, but you have to take them against Germany," he said.
"In the final minutes we tried to force things but you have to be daring to get the second goal."
Germany are favourites to win the tournament following another impressive performance and their manager Joachim Loew believes victory over Denmark is important in their final match of the group.
"The group winner would be important because we can stay in Gdansk and that would probably be to our advantage in the quarter-finals," he said.
One of Germany's key men in their opening two matches of the competition has been in-form striker Gomez.
The 26-year-old Bayern Munich forward has scored 25 goals in 54 games for his country, and team-mate Bastian Schweinsteiger believes he is one of the best strikers in Europe.
"The good thing with Mario is that he needs almost zero chances and still scores, just like Didier Drogba - I would put those two more or less on the same level," said Schweinsteiger.
"Mario has had a very good season, as you could see against Portugal and Holland his goals are a precious commodity for us.
"We also have Miroslav Klose waiting in the wings, they are different players, but other countries would be happy to have such talent."