Norwich City will spend for stability, says chairman
Last updated on .From the section Football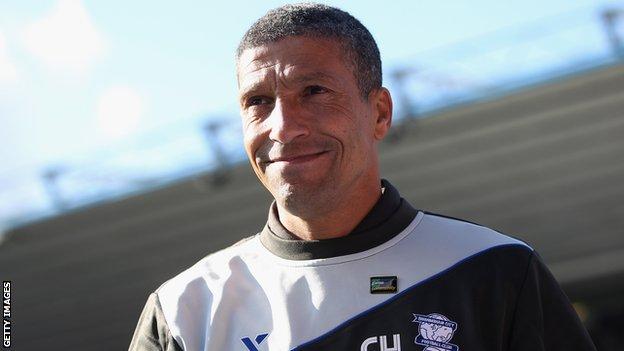 Norwich City boss Chris Hughton will be handed the club's largest ever transfer budget to help establish the Canaries as a force in the Premier League.
Chairman Alan Bowkett wants the Carrow Road side to build on last season's 12th-place finish.
"We have established a good position now in the Premier League," he told BBC Radio Norfolk.
"Our next objective is to become an established club and to do that we need to kick on and develop."
Three years ago Norwich had just been relegated to League One and came close to going into administration in the following season.
But back-to-back promotions and a concerted effort to restructure the club's debts have put the Norfolk side on a more stable financial footing.
Hughton, who left Birmingham City to take over from Paul Lambert, will benefit by having the Norfolk side's largest ever playing budget.
"We will have the biggest expenditure on football we've ever had. That's down to the fantastic commercial success of the business.
"In League One we had a turnover of £18m. This year we will have an approximate turnover of £75m and that's only about £5m short of Everton [who turned over £82m in 2010-11]," said Bowkett.
"We want to invest in the squad. We've got a very strong squad as it is, but we want to improve.
"Therefore we will be looking again in the transfer market and possibly looking a bit wider than the lower leagues and more internationally."
On the appointment of former Newcastle United boss Hughton, he added: "We need a high quality manager and in Chris we have somebody who has won the Championship, managed a huge club in Newcastle and has managed in the Europa League.
"So clearly he has experience that may become useful to us in the future."
Bowkett claimed Hughton had been first-choice to replace Lambert since "other approaches this time last year" for the Scot.
"Chris was top of our list last year when Paul had a little wobble and he remained top of our list," he said.
"Clearly we were conscious that he worked for another football club so we had a shortlist of five people.
"Chris was always top of that shortlist. But we also had a German, two Italians and a Scotsman and I'll leave it to you to guess which is which."
Lambert left for Aston Villa this summer and the Canaries chairman was not surprised by the departure.
"With Paul you get a package. You get an outstanding football manager but he's ruthlessly ambitious and possibly the most impatient man I've ever met," he said.